02.12.2015 | Research Note | Ausgabe 1/2016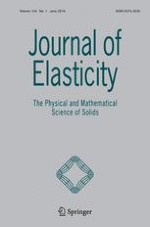 An Example of a One-Parameter Family of Rank-One Convex Stored Energies for Isotropic Compressible Solids
Zeitschrift:
Autoren:

S. Gavrilyuk, S. Ndanou, S. Hank
Abstract
Applying the theorem proved by the authors in Ndanou et al. (J. Elast. 115:1–15,
2014
), we established the hyperbolicity of non-stationary equations of hyperelastic isotropic solids for a one-parameter family of equations of state containing, in particular, generalized neo-Hookean solids. The hyperbolicity is equivalent to the rank-one convexity of the corresponding stored energy (Dafermos, Hyperbolic Conservation Laws in Continuum Mechanics, Springer, Berlin,
2000
; Šilhavý, The Mechanics and Thermodynamics of Continuous Media, Springer, Berlin,
1996
). The influence of the parameter on the solution properties is shown in the case of a strong shear test.