2019 | OriginalPaper | Buchkapitel
An Experimental Research on Power Losses into an Automotive Manual Transmission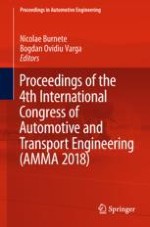 Erstes Kapitel lesen
Autoren: Adrian Budală, Adrian Şoica
Abstract
A significant part of the energy produced by vehicle engine is lost into the mechanical transmission. This phenomenon is still present at common drive train constructions used in automotive vehicles.
Theoretical models were developed in order to evaluate the power losses into automotive transmissions, but none of them is capable to cover all transmissions configurations and structures, traffic or loading situations etc.
The power losses into automotive transmissions depend on the specificity of each construction. Moreover, it is extremely difficult and delicate to identify and separate all the phenomena or causes of power loss and also, their influences during the vehicle use. The paper aims to present some of them, their effects and results, some observations based on experimental measurements of power losses into a certain passengers car transmission and also aims to identify some of those main influencing factors.
In order to contribute, in the future, to better transmissions modeling, experimental researches were made. The results were obtained by testing an entire vehicle on a chassis dynamometer. This approach ensured a good similitude between the testing conditions and the ones from real world operation of motor vehicles drivetrains.