2006 | OriginalPaper | Buchkapitel
An Experimentally Validated Model for Unsteady Rolling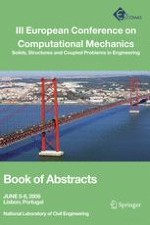 Erstes Kapitel lesen
Autoren: F. Gutzeit, M. Wangenheim, M. Kröger
Verlag: Springer Netherlands
The description of the tyre road contact is important for brake or drive stability systems working in modern vehicles. Steady models loose accuracy, if slip or normal force contain higher frequencies. This is the case during an ABS brake process.
At the Institute of Dynamics and Vibrations, a mobile test rig has been built up to investigate unsteady rolling. A small solid rubber wheel, which is applied for wear experiments in the tyre industry, serves as the specimen. Any given time characteristics of slip and normal force can be realized by the control modules. The forces and moments, as well as the temperatures of the wheel and the road are recorded. Based on the experiments, a numerically efficient model for the unsteady rolling contact was developed, see [
1
]. The mechanical model describes the dependency on the slip
v
(
t
) for constant normal force FN. The numerical efficiency is achieved by applying a modal condensed formulation of the wheel structure. Furthermore, the contact area is discretized by point contact elements representing the local contact behavior.
The model will be revised in order to be able to include time depending normal forces
F
N(t
)
. The Hurty- Craig-Bampton reduction is applied to access the contact nodes during the simulation. The method allows to condense modally the remaining nodes. The model divides the contact zone into a sticking and a sliding area.Within the sticking area, the displacements of the contact nodes are forced according to the kinematic conditions of the wheel. Within the sliding area, the local friction force is calculated for every node. After deformations and external forces have been calculated, appropriate sticking and sliding conditions are proved to compute the division of the contact patch for the next time step. In many respects, rubber is a highly nonlinear material. The strong temperature dependency must be considered in many applications. By means of an infrared camera, thermal images of the contact zone are taken. An analytical approach is adapted to the case of a solid rubber wheel and finally compared to the experimental data.
The temperature dependence on the rolling contact behavior is discussed. The results of the modified model are shown and compared to experimental data recorded by the friction robot. The influence of the global slip on the sticking to sliding transition is shown.