2016 | OriginalPaper | Buchkapitel
An HMM-Based Multi-view Co-training Framework for Single-View Text Corpora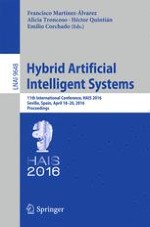 Erstes Kapitel lesen
Autoren: Eva Lorenzo Iglesias, Adrían Seara Vieira, Lourdes Borrajo Diz
Abstract
Multi-view algorithms such as co-training improve the accuracy of text classification because they optimize the functions to exploit different views of the same input data. However, despite being more promising than the single-view approaches, document datasets often have no natural multiple views available.
This study proposes an HMM-based algorithm to generate a new view from a standard text dataset, and a co-training framework where this view generation is applied. Given a dataset and a user classifier model as input, the goal of our framework is to improve the classifier performance by increasing the labelled document pool, taking advantage of the multi-view semi-supervised co-training algorithm.
The novel architecture was tested using two different standard text corpora: Reuters and 20 Newsgroups and a classical SVM classifier. The results obtained are promising, showing a significant increase in the efficiency of the classifier compared to a single-view approach.