03.03.2017 | Ausgabe 1/2018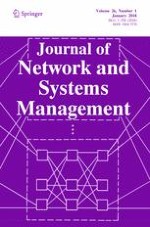 An HTTP/2 Push-Based Approach for Low-Latency Live Streaming with Super-Short Segments
Zeitschrift:
Autoren:

Jeroen van der Hooft, Stefano Petrangeli, Tim Wauters, Rafael Huysegems, Tom Bostoen, Filip De Turck
Abstract
Over the last years, streaming of multimedia content has become more prominent than ever. To meet increasing user requirements, the concept of HTTP Adaptive Streaming (HAS) has recently been introduced. In HAS, video content is temporally divided into multiple segments, each encoded at several quality levels. A rate adaptation heuristic selects the quality level for every segment, allowing the client to take into account the observed available bandwidth and the buffer filling level when deciding the most appropriate quality level for every new video segment. Despite the ability of HAS to deal with changing network conditions, a low average quality and a large camera-to-display delay are often observed in live streaming scenarios. In the meantime, the HTTP/2 protocol was standardized in February 2015, providing new features which target a reduction of the page loading time in web browsing. In this paper, we propose a novel push-based approach for HAS, in which HTTP/2's push feature is used to actively push segments from server to client. Using this approach with video segments with a sub-second duration, referred to as
super-short
segments, it is possible to reduce the startup time and end-to-end delay in HAS live streaming. Evaluation of the proposed approach, through emulation of a multi-client scenario with highly variable bandwidth and latency, shows that the startup time can be reduced with 31.2% compared to traditional solutions over HTTP/1.1 in mobile, high-latency networks. Furthermore, the end-to-end delay in live streaming scenarios can be reduced with 4 s, while providing the content at similar video quality.