26.12.2016 | New Trends in data pre-processing methods for signal and image classification | Ausgabe 10/2017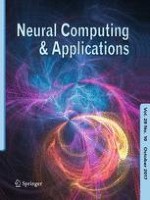 An improved FCM algorithm with adaptive weights based on SA-PSO
Zeitschrift:
Autoren:

Ziheng Wu, Zhongcheng Wu, Jun Zhang
Abstract
Fuzzy c-means clustering algorithm (FCM) often used in pattern recognition is an important method that has been successfully used in large amounts of practical applications. The FCM algorithm assumes that the significance of each data point is equal, which is obviously inappropriate from the viewpoint of adaptively adjusting the importance of each data point. In this paper, considering the different importance of each data point, a new clustering algorithm based on FCM is proposed, in which an adaptive weight vector
W
and an adaptive exponent
p
are introduced and the optimal values of the fuzziness parameter
m
and adaptive exponent
p
are determined by SA-PSO when the objective function reaches its minimum value. In this method, the particle swarm optimization (PSO) is integrated with simulated annealing (SA), which can improve the global search ability of PSO. Experimental results have demonstrated that the proposed algorithm can avoid local optima and significantly improve the clustering performance.