2010 | OriginalPaper | Buchkapitel
An Improved Method for the Measurement of Tenocyte Proliferation In-Situ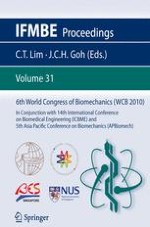 Erstes Kapitel lesen
Autoren: L. S. Way, C. Gray, G. Reilly, A. Scutt
Verlag: Springer Berlin Heidelberg
In-vitro
studies of tenocytes aim to understand the relationship between the cells and their surrounding matrix [1], and how this interaction is affected by external stimuli placed upon them such as mechanical forces. For this reason it is important to understand whether cell proliferation is altered by mechanical or other stimuli.
Currently the most commonly used methods of measuring cell proliferation rely on the use of BrdU (5-bromo-2'-deoxyuridine) or PCNA (proliferating cell nuclear antigen), which are visualised using antibody staining, therefore, relying on the permeabilisation of the cell membrane to detect what stage of the cell cycle the cells are in. EdU (5-ethynyl-2'-deoxyuridine) is a novel alternative to the BrdU assay for the measurement of active DNA synthesis. EdU is a nucleoside analog of thymidine and is incorporated into DNA during active DNA synthesis [2]. Detection of EdU is based on a "click" reaction, which is a copper (I) catalyzed reaction between an azide and an alkyne [3].
EdU was added to media at 50mM and incubated with the cells for 6 - 22 hours. Cells were washed and fixed with ethanol and stained for 30 min with Alexa Fluor 488. Cells grown in monolayer were then imaged using a fluorescence microscope or explanted tendon fascicles were imaged using mulitphoton microscopy. Total number of cells present was calculated by staining with DAPI.
Cells incorporating EdU brightly fluoresced and were easily identifiable from non-proliferating cells. Preliminary studies have found that 30-40% of tenocytes in monolayer were actively synthesizing DNA after a 6 hour labeling period. In contrast, when the cells were stained
in-situ
in intact tendon fascicles for 22 hours, only 2-5% of the cells were found to be synthesizing DNA.
This method enables the simple visualization of proliferating tenocytes within intact tendons facilitating the investigation of biomechanical effects on proliferation both
in vivo
and
ex vivo
.