09.02.2018 | Review Paper | Ausgabe 5/2019 Open Access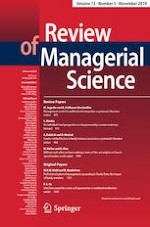 An individual-level perspective on intrapreneurship: a review and ways forward
Zeitschrift:
Autor:

Christine Blanka
2

Theoretical background
2.1

Conceptualizing entrepreneurship within firms
3

Methodology
3.1

Review approach

To investigate the current state of research on individual-level intrapreneurship, a systematic literature review (SLR) was performed. This approach makes it possible to provide an overview of prior research in the field and a holistic perspective on the common knowledge base. Furthermore, the review contributes to the development of the intrapreneurship field by identifying different research streams and illustrating possible future research agendas. A systematic review approach is characterized by thoroughness and rigour, leading to legitimacy and the objectivity of results (Creswell

2009

; Jesson et al.

2011

; Tranfield et al.

2003

). Based on this, the paper follows the suggestion of Tranfield et al. (

2003

) as a reference framework for conducting an SLR in the field of management and business. Therefore, the research was carried out by adopting the basic guidelines of these authors, dividing the SLR into the following steps: (1) planning the review, (2) conducting the review and (3) reporting and disseminating the review.

As Fig.

2

shows, in a first step the field of research was accessed by gaining an overview of relevant concepts in the field of intrapreneurship. In doing so, the current need for an SLR was identified, as different concepts emerged but a clear classification was missing. The aim was to identify relevant journal articles referring to intrapreneurship as an individual-level concept. The databases Ebsco, Emerald, ScienceDirect, Scopus and Web of Science were used. As intrapreneurship is a sub-field of entrepreneurship, in Ebsco four relevant entrepreneurship databases were selected: Business Source Premier, EconLit, Entrepreneurial Studies Source and PsycINFO. To be included in the review, the title, abstract or keywords of an article had to contain the search term "intrapreneur*". As the focus of the SLR was on the individual level only, the search term was defined in a tight manner based on the definition of intrapreneurship. However, as already stated, researchers in the intrapreneurship field use different terms to describe intrapreneurship as a consistent definition is missing. To take this vagueness into account, the search term had to be included either in the title or abstract or keywords. Thus, research on intrapreneurship using for example the term "corporate entrepreneurship" in the title, but "intrapreneurship" in the abstract or keywords was also included in the search results. The use of an asterisk with the search term ensured that variations (e.g. intrapreneurs, intrapreneurial, intrapreneurship) were included in the results of the literature search. As further inclusion criteria, the type of publication was defined as a journal article, in English and published between 2005 and 2016.
×
Using this approach, an initial sample of 530 publications was identified. To ensure the inclusion of high-quality research, a quality assessment was performed and only those publications that were published in journals ranked in the Academic Journal Guide 2015 (AJG) of the Chartered Association of Business Schools or the VHB ranking 2015 (Jourqual 3) of the German Academic Association for Business Research were retained (N = 311). Usually only papers that meet specific ranking criteria (e.g. a ranking ≥ 2 in the AJG or ≥ C in VHB) are kept in review samples to provide a quality threshold. As a result of the narrow focus of the SLR, no further restriction concerning ranking criteria was defined. After the elimination of duplicates, further inclusion criteria were tested to ensure the quality threshold. As intrapreneurship is defined as a sub-field of entrepreneurship, enabling innovation within organizations, only those articles published in journals clustered in the relevant subject areas of AJG (Entrepreneurship and Small Business Management and Innovation) or VHB (Entrepreneurship and Technology, Innovation and Entrepreneurship) were included. Following this limitation, a sample of 58 articles was tested through an abstract-screening process. Based on the narrow definition of intrapreneurship as an individual-level concept, articles applying an organizational- or team-level view were excluded. The final sample of the SLR consisted of 32 articles dealing with intrapreneurship at the individual level.
As a first step, the articles were analysed with regard to their theoretical emphases and the research design applied. In the second step, the articles underwent a detailed content analysis. Relevant issues in the articles were coded and finally different research subjects were identified, synthesized and in a final step re-organized into research streams based on the analytical level applied.
3.2

An overview of intrapreneurship research

The sample of the SLR provides insight into the journal classes in which articles concerning intrapreneurship have been published. Different research areas were clustered based on the scope of the journals. The majority of articles appear in journals that focus on Business, Management and Strategy (N = 12), which is not surprising considering the theoretical foundations in management. The 32 articles in the review were published in 21 journals. The journal with the most publications in the thematic field is the

International Entrepreneurship and Management Journal

, with eight articles in total (see Table

2

in the Appendix). In the period considered, 2005–2016, the number of articles dealing with the topic of intrapreneurship shows a growing trend. In particular, there is a peak in the year 2013, in which nine articles were published. The majority of the articles were published in the research areas of business and management, with only seven articles published in the research areas of innovation and technology.

Although the individual-level perspective was an inclusion criterion, some publications also considered the organizational-level of intrapreneurship (either EO or CE). Regarding the research subject, the sample articles examined factors predicting innovative behaviour, differences between entrepreneurship and intrapreneurship, individual and organizational antecedents of intrapreneurship activities, as well as management and leadership. Some authors focused on management themes, such as the role of middle-level managers (Kuratko et al.

2005

), coaching by managers and its influence on employees' entrepreneurial self-efficacy (Wakkee et al.

2010

) and a processual perspective on intrapreneurship, which considers various actors at different management levels (Belousova and Gailly

2013

). Other research has been done examining CE and its influence on employee behaviour, such as the new roles of engineers as technology intrapreneurs (Menzel et al.

2007

), the influence of transformational leadership style on intrapreneurial behaviour (Moriano et al.

2014

), organizational antecedents leading to intrapreneurial behaviour and as a further step to intrapreneurship (Rigtering and Weitzel

2013

), the influence of intrapreneurial experience on CV (Guerrero and Peña-Legazkue

2013

) and bootlegging behaviour of employees to develop ideas not supported by management (Globocnik and Salomo

2015

). Three articles also tried to link the organizational and individual levels by developing a combined model of CE and intrapreneurship to predict innovative behaviour (Åmo and Kolvereid

2005

), clarifying the intersection of CE and intrapreneurship (Åmo

2010

), or developing a link between EO and intrapreneurship (Bouchard and Basso

2011

).

In addition to thematic diversity, the articles in the sample also applied different methodological approaches. As shown in Table

3

, most authors used a quantitative research design (69%) to examine intrapreneurship. Only seven articles concerned qualitative research, applying interviews and case studies. Six articles drew on case studies, of which two applied a multiple case study approach. Furthermore, theoretical research work is underrepresented, as only three publications were of a conceptual nature. As is apparent from the sorting of the publications in Table

3

by year of publication, qualitative research designs were mainly employed from 2005 to 2010. From 2010 onward, quantitative research outweighed qualitative and conceptual research, a development that is quite typical of emerging research fields. Most of the quantitative publications were based on large and well-known databases, such as the Global Entrepreneurship Monitor (GEM) survey or the Panel Study of Entrepreneurial Data (PSED). Almost all studies were cross-sectional and only one applied a longitudinal research approach, using interviews to analyse the changed role of engineers and a shift from engineering to entrepreneurial tasks.

The sample contained no article giving an overview of prior research in the field of intrapreneurship or a review of the literature in this field. This further underlines the need for an SLR undertaken to map the literature streams and focus on intrapreneurship research at the individual level.
4

Results
4.1

Theoretical frameworks and perspectives on intrapreneurship

The sample articles used various theoretical perspectives to investigate individual-level intrapreneurship. The majority of the journal articles clearly defined a theoretical foundation; indeed most were based on more than one theory. Only two empirical publications lacked a clarification of the theoretical framework. In terms of definitions provided in the sample articles, the theoretical concepts of intrapreneurship, CE and EO were the theoretical foundations most mentioned. Pinchot's work (

1985

), as seminal in the field, was applied in eight contributions focusing on the concept of intrapreneurship, defining intrapreneurs and distinguishing intrapreneurship from other concepts. Besides meeting the inclusion criterion of a focus on individual-level intrapreneurship, some papers also applied organizational-level constructs. Articles based on the CE approach tend to be rooted in the work of Antoncic and Hisrich (

2003

), as they clarified the intrapreneurship concept and developed a framework to distinguish CE from intrapreneurship, as well as dimensions of organizational-level intrapreneurship. A second source applied to CE research is the work of Kanter (

1984

). She underlined the relevance of initiatives undertaken by individuals within organizations and stated that CE should result in innovation behaviour among employees. Articles using the EO framework are based on the idea that EO is an organization-wide strategy for fostering innovation. Covin and Slevin (

1991

) identified innovativeness, risk taking and proactiveness as dimensions for measuring organizations' EO and hence their work also provides a framework for the sample articles.

Besides the basic theoretical foundations rooted in the related concepts of intrapreneurship, CE and EO, the sample articles applied various lenses and theories to investigate intrapreneurship. Three theories, presented here, were applied most in the journal articles analysed. The

Theory of Planned Behaviour

(TPB) is well-established in the intention literature and relevant for analysing entrepreneurial intentions (Ajzen

1985

,

1991

). It is assumed that intentions predict human behaviour and therefore are of high relevance in research. Based on the assumption that attitudes, subjective norms and perceived behavioural control influence intentions, intrapreneurship research has attempted to delineate differences in entrepreneurial versus intrapreneurial intentions (Douglas and Fitzsimmons

2013

; Tietz and Parker

2012

). By investigating attitudes (e.g. to income and risk), researchers have aimed to shed light on intrapreneurial intentions and factors influencing these. Furthermore,

motivation theories

are applied in the sample articles to examine motivational factors for engaging in innovative behaviour within established organizations (Bicknell et al.

2010

). In addition, different motives, e.g. financial and independence, have been investigated with regard to intrapreneurial intentions. The third theory most used is

social learning theory

(Bandura

1986

), which states that the learning of novel behaviour is a cognitive process embedded in a social context and occurs through observation and imitation of others. The theory suggests that cognition, behaviour and environment are connected in a reciprocal fashion. The construct of "self-efficacy" is part of social learning theory (Bandura

1977

) and is defined as a person's perceived ability to show certain behaviours or fulfil certain tasks. Self-efficacy is influenced by skills, their application and the feedback on applying these skills. Therefore self-efficacy is not only the result of performance, but is also the determinant for further and revised performance. In the field of entrepreneurship, the term entrepreneurial self-efficacy (ESE) has been established. The sample articles examined the ESE of employees and its key role in showing innovative behaviour and forming intrapreneurial intentions (Douglas and Fitzsimmons

2013

; Globocnik and Salomo

2015

; Wakkee et al.

2010

).

In addition to the various theoretical lenses, the researchers also employed different definitions of intrapreneurship. As no common definition exists with regard to the perspective applied to the phenomenon, the journal articles examined specified intrapreneurship differently. Most researchers drew on Pinchot's work (

1985

) and used well-known criteria to specify the term intrapreneurship. The majority of the research primarily characterized intrapreneurship through its

organizational context

(22 articles) by defining it as "entrepreneurship within existing organizations", "entrepreneurship in the large organization", "inside an organization", "in-company entrepreneurship" or "entrepreneurial activities within the organizational context". This is in line with Pinchot's argument that the organizational context in particular differentiates entrepreneurship from intrapreneurship. A further criterion is the origin of intrapreneurial initiatives. In this regard, some studies (nine) clearly branded intrapreneurship as "

bottom

-

up

", indicating that intrapreneurial activities emerge from entrepreneurial employees themselves. These publications argued that employees play a key role in realizing intrapreneurial initiatives. Other publications (seven) do not use the term "bottom-up" in their definition, but instead underline the relevance of individuals to intrapreneurship. Two publications concretely distinguish intrapreneurship as an "individual-level concept" from CE as an organizational-level concept. A further attribute often used to define intrapreneurship is the (expected)

outcome

(13 articles). Terms like "innovation", "strategic renewal" and "out-of-the-box thinking" were applied to flag intrapreneurship as behaviour in pursuing new opportunities and competitive advantage. Besides the constituents of these main attributes mentioned above, the authors used different terms for intrapreneurship. Therefore, the result is a puzzle of similar terms and synonyms that lead to the mixing of different theoretical perspectives (e.g. using the term CE to examine individual employee behaviour).
4.2

Research streams

The articles in the SLR were organized into different research streams based on the analytical level applied. As Table

1

shows, by clustering, five streams dealing with different perspectives on intrapreneurship research were defined: individual- and organizational-level perspectives, context-oriented research, research focusing on outcomes and studies concentrating on possible promoting factors of intrapreneurship. To cluster the research, both deductive codes (e.g. individual level), based on the theoretical foundations of the studies, and inductive sub-codes (leadership) that emerged from the data were deployed.

Table 1

Streams in intrapreneurship research
Analytical level

Sub-categories

References

Individual

Operational-level employees: demographics, personality, behaviour, perceptions, human capital, social capital, affiliation

Middle-level managers: personality, behaviour, leadership

Åmo (

2010

), Bicknell et al. (

2010

), Bjornali and Støren (

2012

), Bouchard and Basso (

2011

), Camelo-Ordaz et al. (

2012

), Douglas and Fitzsimmons (

2013

), Edú Valsania et al. (

2016

), Globocnik and Salomo (

2015

), Guerrero and Peña-Legazkue (

2013

), Gwynne and Wolff (

2005

), Johnson and Wu (

2012

), Kirby (

2006

), Kuratko et al. (

2005

), Martiarena (

2013

), Matthews et al. (

2009

), Moriano et al. (

2014

), Parker (

2011

), Rigtering and Weitzel (

2013

), Sinha and Srivastava (

2013

), Solymossy and Gross (

2015

), Tietz and Parker (

2012

), Urbano and Turro (

2013

), Wakkee et al. (

2010

), Williamson et al. (

2013

), Zhu et al. (

2014

)

Organizational

Structure and processes, support and promoters, rewards, culture

Contextual

Firm type, national characteristics, technology, academia

Outcomes

Behavioural outcome, intrapreneurial activity, performance

Åmo (

2010

), Åmo and Kolvereid (

2005

), Bager et al. (

2010

), Camelo-Ordaz et al. (

2012

), Douglas and Fitzsimmons (

2013

), Globocnik and Salomo (

2015

), Guerrero and Peña-Legazkue (

2013

), Johnson and Wu (

2012

), Martiarena (

2013

), Matthews et al. (

2009

), Moriano et al. (

2014

), Parker (

2011

), Rigtering and Weitzel (

2013

), Stam (

2013

), Tietz and Parker (

2012

), Zhu et al. (

2014

)

Promoters

Individual level outcome, dispersed CE process, ESE, developmental support
In the following sections, an overview of the research done in the various identified streams is provided. As shown in Table
1
, the streams identified follow a specific flow: the first is based on the individual- and organizational-level perspective from the intrapreneurship literature; the next stream focuses on context orientation in research; further research examines the possible outcomes of intrapreneurship and in addition factors further promoting intrapreneurial activities. The research stream focusing on individual-level factors is divided into two sub-categories of operational-level employees and middle-level managers, as they play different roles in the intrapreneurship process due to their relative positions in established organizations.
4.2.1

Individual-level perspective on intrapreneurship
4.2.2

An organisational-level lens on intrapreneurship

Based on the assumption that individual-level initiatives, as well as organizational-level approaches such as CE, are necessary to enable intrapreneurial behaviour (Åmo and Kolvereid

2005

), a second stream of research offers an organizational-level lens on intrapreneurship. By focusing on organizational

structures and processes

that permit intrapreneurship, research offers insights into influential organizational characteristics such as the role of the business owner, planning activities or formalization (Bouchard and Basso

2011

). Various formal management processes that allow strategic autonomy, for example, are relevant factors in ensuring an intrapreneurship-friendly environment (Feyzbakhsh et al.

2008

; Globocnik and Salomo

2015

). Furthermore, organizational-related promoters offer an appropriate physical environment that creates physical nearness and stimulates various aspects of cooperation, as well as a reduced hierarchy and bureaucracy to ensure knowledge sharing and joint idea generation (Menzel et al.

2007

). Authors have also stressed organizational empowerment as one important factor. The concept of empowerment allows employees to develop proactive behaviour through the implementation of an organizational structure that aims for the autonomy and commitment of employees in decision-making processes. The experience of organizational empowerment is a success factor and even mediates the relationship between authentic leadership and intrapreneurial behaviour (Edú Valsania et al.

2016

). Menzel et al. (

2007

) further highlight the need for new methods in the teaching and training of intrapreneurship. Simulations and action-orientated approaches are useful preparing employees for intrapreneurship. Therefore, management processes should also shed light on suitable training tools to pioneer the intrapreneurial behaviour of employees.

As a second sub-category,

organizational support and promoters

are said to play a crucial role in fostering intrapreneurship activities (Urbano and Turro

2013

). In particular, the role of management in fostering intrapreneurship in practice is of considerable relevance, as management acts as enabler for demonstrating entrepreneurial behaviour within the organization. Parker (

2011

) argues that potential intrapreneurs do not express interest in entrepreneurship until management, for example, presents a suitable opportunity. Various studies have demonstrated that the realization of intrapreneurial activities requires management support (Feyzbakhsh et al.

2008

; Kirby

2006

). In particular, management's clear commitment to intrapreneurship is a precursor for intrapreneurial activities and as a further step an intrapreneurship-friendly environment within the established organization. In addition to management support, high availability of resources leads to higher levels of intrapreneurial behaviour (Menzel et al.

2007

; Rigtering and Weitzel

2013

). Therefore, access to resources is an important organization-related promoter of intrapreneurship. Not only do support by managers and the availability of resources affect potential intrapreneurs, but also the opportunity to participate in various decision-making processes influences intrapreneurship initiatives on the part of employees. Research states that low organizational participation (with employees being the main contributors to processes) and high horizontal participation (broadly defined jobs of employees) are positively related to intrapreneurship (Åmo

2010

; Rigtering and Weitzel

2013

). Closely linked is also the communication of organizational strategies to employees as a success factor, strengthening the commitment and participation of employees. To complement organizational support,

rewarding

intrapreneurs has also been examined in research. Besides honouring the innovative accomplishments of intrapreneurs (Globocnik and Salomo

2015

), rewards provide a signalling effect within the organization und emphasize intrapreneurial behaviour as desirable (Kirby

2006

; Menzel et al.

2007

).

As well as the parameters presented above, an underlying success factor of intrapreneurship is an organization-wide intrapreneurship

culture

. Authors have shown that the development of an intrapreneurial mindset allows organizations to foster an intrapreneurship culture and further facilitates organizational change (Hagedorn and Jamieson

2014

). As intrapreneurs are characterized by their broad mindset, enabling them to cooperate and generate ideas across organizational boundaries, the culture needed is defined by trial and error, an innovative mindset and opportunities for experimenting and continuous refinement (Hagedorn and Jamieson

2014

; Kirby

2006

; Menzel et al.

2007

).
4.2.3

Context orientation in intrapreneurship research

Besides the perspectives concerning the influence of individual- and organizational-related factors on intrapreneurship, research in the field also focuses on context orientation. Researchers have examined not only different firm types, but also the national level, as well as the technological and academic context.
4.2.4

Outcome lens on intrapreneurship
4.2.5

Factors promoting intrapreneurship

The papers in the last research stream deal with additional factors promoting intrapreneurship. Kuratko et al. (

2005

) highlight the key role of middle-level managers in their research. Due to their role and tasks in motivating employees, acquiring necessary resources and selling innovative ideas to top-level management, middle-level managers can themselves be defined as intrapreneurs. The authors therefore also argue that middle-level managers behave in an entrepreneurial manner and that there is an

individual

-

level outcome

of this behaviour. As a further step, positive evaluation of this behaviour affects individual perceptions and leads to increased engagement in intrapreneurship in the future. Therefore, the role of managers is crucial in motivating operational-level employees, but at the same time the entrepreneurial behaviour undertaken also promotes the intrapreneurial initiatives of employees and managers.

Belousova and Gailly (

2013

) also point to the promotional role of middle-level managers and present interesting results concerning the contribution of different organizational members in line with the CE process. The so-called

dispersed CE

process is divided into the stages of discovery, evaluation, legitimation and exploitation. The authors show that different levels of organizational managerial membership (top-, middle- and operating-level) are involved in this process. The role of middle-level managers is crucial as they encourage operational-level employees to work on innovative ideas and at the same time champion ideas in relation to management. In addition, the various stages of the process (e.g. evaluation, legitimation) are promoters, facilitating feedback, evaluation, continuous adjustment and experimentation.

In line with this, Wakkee et al. (

2010

) argue that with regard to intrapreneurial behaviour, there is a reciprocal connection between cognition, environment and behaviour. Thus intrapreneurial behaviour is not just the result of

ESE

. As showing behaviour allows feedback, intrapreneurial behaviour is also a determinant of ESE. The authors state that ESE has a positive effect on entrepreneurial employee behaviour, as a person's perception of being capable of behaving entrepreneurially is reflected in actual entrepreneurial behaviour. A further promoting factor that has emerged from research is

developmental support

in the form of coaching (Menzel et al.

2007

; Wakkee et al.

2010

). As employee coaching by managers provides access to resources and strengthens the awareness of intrapreneurship, the role of coaching in entrepreneurial employee behaviour and ESE has been investigated. The results reveal a positive effect of coaching on intrapreneurial behaviour, demonstrating that coaching can be an important factor promoting intrapreneurship. In addition, workshops, developmental advice and mentoring (Gwynne and Wolff

2005

) provide developmental support in fostering intrapreneurial skills and promoting intrapreneurship.
5

Discussion and paths for future research

The purpose of this paper was to examine intrapreneurship research and identify the current research focus in the field. By mapping the current research, the paper has clearly distinguished intrapreneurship as distinct from the organizational concepts of corporate entrepreneurship and entrepreneurial orientation. The results of the systematic literature review indicate different analytical clusters of research focusing on intrapreneurship: studies related to individual- and organizational-level factors, contextual-oriented research, an outcome lens on intrapreneurship and research concentrating on possible promotional factors.
6

Conclusion

Intrapreneurship is an emerging field in research and is also gaining increasing attention in organizational practice. A deep understanding of factors influencing the intrapreneurial behaviour of employees is important for researchers, but also for firms aiming to foster intrapreneurship. This paper provides a systematic literature review on individual-level intrapreneurship and hence offers an orientation for researchers to identify relevant research issues. Prior research has also focused on intrapreneurship, but has only investigated single aspects and therefore no comprehensive picture of the intrapreneurship field has yet been provided. In particular, the narrow focus on individual-level intrapreneurship in contrast to CE and EO, as well as the interplay of the concepts, serve as the basis for a clarification of the intrapreneurship concept and much clearer justification of future research.

Based on the systematic literature review, this paper presents the state of research on intrapreneurship. Five clusters are built, dealing with the various analytical levels applied: organizational and individual, context orientation, outcome level and possible promoters. The paper provides insights into these research areas and integrates them within a model that shows existing research streams and possible paths for future research initiatives. By clustering the research based on the perspective applied, the paper is the first to give an overview of analytical levels and show possible linkages between the various lenses on intrapreneurial behaviour. Hence the paper contributes to the research field as a first step towards a holistic research model of intrapreneurship. Besides presenting the state of research and future research agendas, the paper also reveals the impetus for enabling and fostering intrapreneurship in practice. The research results allow insights concerning factors influencing the intrapreneurial behaviour of employees and are of high relevance for practice.
6.1

Implications for practice

The review has highlighted several future research themes, in addition to the suggestions made by the articles reviewed. In addition, the research contributes to the field of intrapreneurship in practice by underlining relevant issues. The findings suggest that entrepreneurial orientation and the implementation of corporate entrepreneurship are not enough to increase intrapreneurial behaviour. Rather, organizations should provide a suitable environment that enables intrapreneurship and initializes intrapreneurial activities on the part of employees. Hence organizational factors such as strategic autonomy, coaching of potential intrapreneurs and available resources are crucial, but the development of an intrapreneurial culture and management's clear commitment to intrapreneurship are also needed. To foster intrapreneurship, both aspects are crucial, as top management's vision of innovativeness and employees' entrepreneurial initiatives are both necessary to realize intrapreneurship.

Middle-level managers are key in combining the perceptions of top management and the intrapreneurial activities of employees. Organizations should be aware of the "bridging role" of these managers and give them an active part in developing an intrapreneurial culture. Also managers' specific leadership styles support the intrapreneurial behaviour of employees. Thus, middle-level managers' contribution to intrapreneurship within a firm is broad: from motivating employees to be innovative and think across organizational unit boundaries, to demonstrating opportunities to realize ideas, supporting intrapreneurial employees and serving as role models. Therefore, middle-level managers themselves should be characterized by entrepreneurial skills and innovative behaviour. Organizations should consider this when recruiting managers and developmental training should further develop these capabilities to exploit the huge potential residing in these managers.

Furthermore, organizations should also pay attention to developing the intrapreneurial skills of their employees. As research has shown, the perceived ability to engage in entrepreneurial behaviour is crucial for actually demonstrating entrepreneurial behaviour. To increase the perceived ability of employees, practising this behaviour and receiving feedback is important. The reciprocal connection between recognizing business opportunities, behaving entrepreneurially and receiving feedback affords an increase in the self-efficacy of employees. Organizations should therefore provide possibilities for learning and developing intrapreneurial skills. This enables employees to gain entrepreneurial experience within the safe setting of an existing organization and develop their intrapreneurial skills further.

As intrapreneurship in the academic context has gained in importance, research also provides recommendations for academia. The current challenges faced by universities, such as tightening budgets and intensive competition, are forcing academia to redefine strategic capabilities by developing an intrapreneurial and innovative mindset. Therefore, innovative and intrapreneurial staff at universities play a key role. The underlying motivation for these so-called academic intrapreneurs is the opportunity to use their acquired academic knowledge for a wider purpose than teaching and research. Hence they value the possibility of realizing ideas outside research and transfer the knowledge generated into new projects and above all new products or processes. University management should be aware of the high potential of academic intrapreneurs, as they are the ones leading academia in a new strategic direction and fostering "out-of-the-box" thinking within universities. To support academic intrapreneurs, researchers have underlined the importance of a clear orientation towards an entrepreneurial university, a university-wide model of entrepreneurship, an intrapreneurship-friendly culture and the rewarding of intrapreneurs. Universities should offer an environment suitable for idea exchange, experimenting, innovative projects, cooperation between institutes and relationships outside academia, e.g. with industry. Such an environment and simultaneously the safe setting of an established organization like a university could foster successful knowledge transfer by scientific staff in a way that is innovative and forward thinking.
6.2

Limitations and implications for research

The systematic literature review was carried out using five relevant databases in the entrepreneurship field. Based on the literature, specific search terms and inclusion criteria were identified. To ensure a quality threshold, VHB and AJG rankings were additional inclusion criteria. Despite these efforts to ensure a systematic approach, the review may not have included all research addressing intrapreneurship as books were not part of it. A further limitation arises from the individual-level focus of the review. To close the research gap concerning the individual-level perspective, a narrow focus on intrapreneurship had to be used. Hence the related concepts of corporate entrepreneurship and entrepreneurial orientation were excluded from the investigation. Furthermore, to present the state of research, only publications in journals in the thematic areas of entrepreneurship and innovation were included. Therefore, possibly relevant studies within other research fields were excluded.

In the course of the review, the sample articles were also investigated with regard to their research implications and suggestions for future research. With regard to the thematic orientation of intrapreneurship research, the authors in the sample mentioned in particular the use of combined models of organizational and individual factors and research improving and refining the measurement scales used. There was a clear call for research working on objective measurement scales of intrapreneurial personality, innovative behaviour and human capital. In addition to the authors' suggestions in the sample articles, future research should investigate the intrapreneurship concept in combination with the organizational-level concepts of corporate entrepreneurship and entrepreneurial orientation. Such a combined approach has been claimed for organizations' practice and research should also aim at working with combined models. This would provide a more holistic view that has thus far mostly been neglected. Furthermore, research should include other perspectives. Studies should investigate the influence of team-level factors on the intrapreneurial behaviour of employees. In this review the team-level perspective was excluded and research in this area is rare. Nevertheless, it can be argued that the team-level perspective also provides interesting insights into intrapreneurial behaviour within firms, as topics such as networks and relationships between employees and different organizational departments can play a crucial role for innovation processes and intrapreneurship projects. A combined approach rooted in organizational and individual concepts and the integration of various analytical levels would be an important step towards developing a holistic view of intrapreneurship.

Another suggestion for future research, also indicated in the sample articles, is a focus on possible external factors influencing intrapreneurial behaviour. While research has recognized the various possible contexts of intrapreneurship, there is a lack of attention paid to national factors concerning environment and culture. As intrapreneurship is rooted in entrepreneurial values, behavioural components (e.g. attitudes) and also social capital, research focusing on the influence of the environment and cultural differences would be interesting. In particular, the issue of cultural factors as moderating variables is of considerable importance and would offer insights into whether and what role culture might play in fostering intrapreneurial behaviour.

In addition, there are research implications in terms of methodology. As the review sample showed, research conducted in the field of intrapreneurship has developed over time, from a few articles that were qualitative and conceptual in nature to articles using mostly quantitative research methods. The review provided in this paper gives an overview of the field, but to gain deeper insights into intrapreneurial behaviour and the individual intrapreneur, other methods are needed. Researchers have pointed to the need for longitudinal studies in intrapreneurship research. The use of longitudinal studies should be the subject of future research as they promise detailed knowledge of the intrapreneurship concept. Furthermore, longitudinal research would allow insights into intrapreneurial activities and their impact on organizational performance, a research area under-represented in existing studies. In particular, intrapreneurs' behaviours leading to strategic renewal "require a considerable amount of time to exert their full effect" (Bierwerth et al.

2015

, p. 273.), a long-term benefit of intrapreneurship not measureable with cross-sectional research designs. Based on the proposition of Rigtering and Weitzel (

2013

), intrapreneurship can be viewed as a two-step-process: first employees are stimulated to develop intrapreneurial skills and behaviour and afterwards are involved in intrapreneurship projects. Hence, future research should consider how intrapreneurial experience is gained and the role of the support of managers, management processes and organizational settings in changing employees' entrepreneurial self-efficacy and thus intrapreneurial behaviour over time.
Acknowledgements
Open access funding provided by Johannes Kepler University Linz. The author thanks the participants of the 13th European Summer University Conference (ESU Conference 2016) of the European University Network on Entrepreneurship in Lyon (France) for valuable comments on an earlier version of this paper.
Compliance with ethical standards
Conflict of interest
The author declares that she has no conflict of interest.
Open Access
This article is distributed under the terms of the Creative Commons Attribution 4.0 International License (
http://​creativecommons.​org/​licenses/​by/​4.​0/​
), which permits unrestricted use, distribution, and reproduction in any medium, provided you give appropriate credit to the original author(s) and the source, provide a link to the Creative Commons license, and indicate if changes were made.
Appendix
See Tables
2
and
3
.
Table 2
Bibliographical sources of the articles included in the systematic literature review
| Field of research area, journal title | 2005 | 2006 | 2007 | 2008 | 2009 | 2010 | 2011 | 2012 | 2013 | 2014 | 2015 | 2016 | Total |
| --- | --- | --- | --- | --- | --- | --- | --- | --- | --- | --- | --- | --- | --- |
| | | | | | | | | | | | | | |
| Entrepreneurship Theory and Practice | 1 | | | | | | | | | | | | 1 |
| Frontiers of Entrepreneurship Research | | | | | | | | 1 | | | | | 1 |
| International Journal of Entrepreneurial Venturing | | | | | | 1 | | | | | | | 1 |
| Journal of Business Venturing | | | | | | | 1 | | | | | | 1 |
| Journal of Enterprising Culture | 1 | | | | | | | | | | | | 1 |
| Journal of Entrepreneurship | | | | | | | | | 1 | | | | 1 |
| Business, Management and Strategy | | | | | | | | | | | | | |
| International Entrepreneurship and Management Journal | | | | | | 1 | | | 4 | 1 | 1 | 1 | 8 |
| International Journal of Entrepreneurial Behavior and Research | | | | | | 1 | | | | | | | 1 |
| Journal of Small Business and Enterprise Development | | | | | | | 1 | 1 | | | | | 2 |
| Journal of Small Business Strategy | | | | | 1 | | | | | | | | 1 |
| Small Business and Entrepreneurship | | | | | | | | | | | | | |
| International Journal of Entrepreneurship and Small Business | | | | | | 1 | | | | | | | 1 |
| International Small Business Journal | | | | | | | | 1 | | | | | 1 |
| Journal of Small Business and Entrepreneurship | | | | 1 | | | | 1 | | | | | 2 |
| Small Business Economics | | | | | | | | | 3 | | | | 3 |
| Innovation, Management and Entrepreneurship | | | | | | | | | | | | | |
| International Journal of Entrepreneurship and Innovation Management | | | | | | | | | | 1 | | | 1 |
| International Journal of Innovation Management | | | | | | | | | | 1 | | | 1 |
| Journal of Product Innovation Management | | | | | | | | | | | 1 | | 1 |
| Research Technology Management | 1 | | | | | | | | | | | | 1 |
| Technology and Entrepreneurship | | | | | | | | | | | | | |
| Journal of Engineering and Technology Management | | | | | | | | | 1 | | | | 1 |
| Journal of Technology Transfer | | 1 | | | | | | | | | | | 1 |
| Technovation | | | 1 | | | | | | | | | | 1 |
| | 3 | 1 | 1 | 1 | 1 | 4 | 2 | 4 | 9 | 3 | 2 | 1 | |
Table 3
Articles and research designs included in the systematic literature review (arranged by year of publication)
Years

Author(s)

Research subject

Theoretical framework

Article type

Empirical/quantitative

Empirical/qualitative

Conceptual/theoretical

2005

Åmo, B. W. and L. Kolvereid

Models of CE and intrapreneurship to predict innovation behaviour

Intrapreneurship, CE

X

2005

Gwynne, P. and M. F. Wolff

Program for women scientists to develop intrapreneurial skills

Not found

X

2005

Kuratko, D. F. et al.

Role of middle-level managers to foster intrapreneurship

CE, motivation theory, expectancy theory

X

2006

Kirby, D.

Intrapreneurship to create entrepreneurial universities

Intrapreneurship, TPB

X

2007

Menzel, H. C. et al.

Engineers as technology intrapreneurs

Intrapreneurship

X

2008

Feyzbakhsh, A. et al.

Obstacles hindering intrapreneurship

Intrapreneurship

X

2009

Matthews, C.H. et al.

Comparing entrepreneurs and intrapreneurs with regard to firm growth expectations

Intrapreneurship, expectancy theory

X

2010

Åmo, B. W.

CE, intrapreneurship and employee innovation behaviour

Intrapreneurship, CE, innovation behaviour

X

2010

Bager, T. et al.

Similarities and differences of entrepreneurs, intrapreneurs and spin-off entrepreneurs

Intrapreneurship, CV, spin-offs

X

2010

Bicknell, A. et al.

Academic intrapreneurs in the knowledge transfer context

Intrapreneurship, psychological contract, motivation theory

X

2010

Wakkee, I. et al.

Role of coaching and self-efficacy to foster entrepreneurial behaviour

Intrapreneurship, EO, social learning theory

X

2011

Bouchard, V. and O. Basso

Linking EO and intrapreneurship in SMEs

Intrapreneurship, EO

X

2011

Parker, S. C.

Intrapreneurship versus entrepreneurship

Intrapreneurship, human capital theory, incentive theory

X

2012

Bjornali, E. S. and L. A. Støren

Competence factors leading to innovative behaviour among higher education graduate professionals

Intrapreneurship, entrepreneurship education, innovation theory

X

2012

Camelo-Ordaz, C. et al.

Influence of demographic characteristics and personal values on innovation performance in creative firms

Intrapreneurship, upper echelon theory

X

2012

Johnson, K. L. and C. Wu

Job satisfaction and person-environment-fit in the intrapreneurship context

CV, satisfaction theory, EO

X

2012

Tietz, M. A. and S. C. Parker

Differences of entrepreneurs and intrapreneurs with regard to motives

Intrapreneurship, TPB, motivation theory

X

2013

Belousova, O. and B. Gailly

Contributors and stages of the CE process

CE

X

2013

Douglas, E. J. and J. R. Fitzsimmons

Intrapreneurial intentions versus entrepreneurial intentions

Intrapreneurship, TPB, social learning theory

X

2013

Guerrero, M. and I. Peña-Legazkue

Effect of human capital on CV

CE, human capital theory

X

2013

Martiarena, A.

Determinants of becoming an intrapreneur and different intrapreneurship types

Intrapreneurship

X

2013

Rigtering, J. P. C. and U. Weitzel

Two-step-model of intrapreneurship

Intrapreneurship, social exchange theory

X

2013

Sinha, N. and K. B. L. Srivastava

Impact of personality, work values and socio-cultural factors on intrapreneurial orientation

Intrapreneurial orientation, trait theory, value theory

X

2013

Stam, E.

Knowledge and entrepreneurial employees on the country level

Knowledge spillover theory

X

2013

Urbano, D. and A. Turro

Internal and external factors of CE

CE, resourced-based theory, institutional theory

X

2013

Williamson, J. M. et al.

New role of engineers with regard to personality traits

Trait theory, satisfaction theory

X

2014

Hagedorn, R. A. and D. W. Jamieson

Intrapreneurship and sensemaking leading to intrapreneurial mindset in academia

Intrapreneurship, sensemaking

X

2014

Moriano, J. A. et al.

Influence of transformational leadership and organizational identification on intrapreneurship

Intrapreneurship, leadership theory, organizational identification

X

2014

Zhu, H. et al.

Innovative behaviour and its influence on individual innovation performance

Innovative behaviour

X

2015

Globocnik, D. and S. Salomo

Management processes and intrapreneurial self-efficacy leading to bootlegging behaviour

Strain theory, social cognitive theory

X

2015

Solymossy, E. and A. Gross

New role of engineers with regard to different types of knowledge

Not found

X

2016

Edú Valsania, S. et al.

Organizational identification and empowerment mediating authentic leadership and intrapreneurial behaviour

Innovative behaviour, leadership theory, organizational identification

X