01.12.2016 | Research | Ausgabe 1/2016 Open Access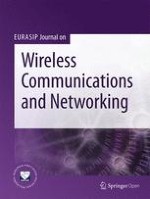 An initial analysis of packet function-aware extension to Dijkstra algorithm for wireless networks
Autor:

Mustafa Arisoylu
Wichtige Hinweise
Competing interests
The author declares that he has no competing interests.
Authors' information
Mustafa Arisoylu received the PhD degree from University of California San Diego (UCSD), in Electrical and Computer Engineering in 2006. He received his MS and BS degrees from Bilkent University, Turkey, both in Electrical Engineering in 1999 and 2001, respectively. Dr. Arisoylu conducted research on resource allocation and performance optimization in communication networks and authored several publications. In 2004, he was a visiting researcher at Los Alamos National Laboratory, (LANL). Dr. Arisoylu worked as a researcher at Cal-IT2 (California Institute for Telecommunications and Information Technology), designing and architecting advanced multi-hop wireless mesh networks for emergency response applications. Dr. Arisoylu joined a startup spinoff company from Cal-IT2 / UCSD, at its seed stage where he served as Research Scientist and Vice President of Research and Development. He later joined the systems design group at Ericsson Inc. Research and Development Center in Boulder, Colorado. Currently, he is serving as a Senior Engineering Manager R&D at system architecture group at Ericsson Silicon Valley Research and Development Center in San Jose, CA.
Abstract
In this paper, we promote the packet function (e.g., packet size) -aware extension of the Dijkstra algorithm (i.e., PFA_SPF) as a base algorithm where any routing protocol can evolve it and integrate it with appropriate routing metrics. In particular, we propose a generic algorithm for packet function-aware path setup for multi-hop networks. The algorithm is based on a generic and novel extension of the classical Dijkstra algorithm in which the cost of each link is a non-negative-valued function of packet parameter(s) (e.g., packet size) rather than a scalar value. The algorithm minimizes the sum of the cost functions (e.g., total transmission delay or total energy consumption) experienced by each packet (e.g., maximizing the throughput) from the source to the destination node. We did initial analysis based on simulation of the algorithm for various random multi-hop wireless networks (e.g., 802.11), utilizing realistic link delay models. Finally, we demonstrate the initial significant potential performance improvements of our algorithm over the existing prior art.