01.09.2013 | Original Article | Ausgabe 3/2013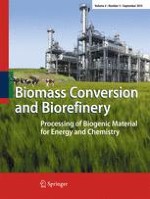 An integrated biorefinery initiative in producing dissolving pulp from agricultural wastes
Zeitschrift:
Autoren:

M. Sarwar Jahan, Naznin Sultana, Mostafizur Rahman, A. Quaiyyum
Abstract
Considering the environmental impact and fluctuating price of fossil fuels, interest is growing in the alternatives sources. As a result, the lignocellulosic materials are becoming more popular for the production of chemicals and energy, in addition to pulp in the frame of biorefinery concept to provide a sustainable, environmentally friendly, and reliable resource. In order to assess agricultural wastes for the production of dissolving pulp in a biorefinery concept, rice straw, wheat straw, mustard branch and stem, and lentil stalks were characterized. These agricultural wastes are characterized by relatively moderate amounts of lignin (20–23 %), reasonably low amounts of
α
-cellulose (35–40 %), and relatively high amounts of ash (4–15 %) contents. For producing dissolving pulp, the prehydrolysis of rice straw, wheat straw, mustard stalks, and lentil stalks was carried out prior to kraft pulping. The prehydrolysis resulted in significant dissolution of biomass (32–39 %) from rice straw, wheat straw, mustard branch, and lentil stalks, which includes lignin (4–7 %), acetic acid (4–7 %), and sugars (11–18 %). The hemicelluloses present in the prehydrolysis liquor (PHL) can be used to produce ethanol by fermentation or for other products such as furfural. Generated acetic acid from the hemicelluloses-bound acetyl groups inhabits fermentation in ethanol production. Therefore, separation of acetic acid from PHL improves fermentation of sugars in PHL and also increases the revenue of pulp industry. Prehydrolyzed biomass was cooked through kraft process and yielded 30–38 % of pulp based on the original raw material with kappa number in the range of 11–21. The produced pulp was bleached by D
0
E
p
D
1
E
p
D
2
bleaching stages. The bleached pulp showed very high brightness (85–90 %) and high α-cellulose content (95–98 %).