01.04.2015 | Technical Paper | Ausgabe 4/2015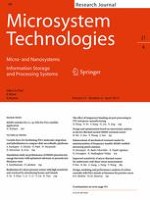 An integrated, cellulose membrane-based PCR chamber
Zeitschrift:
Autoren:

Xianbo Qiu, Michael G. Mauk
Abstract
We report the design, fabrication, and testing of a microfluidic device for molecular diagnostics that sites lysis, solid-phase extraction of nucleic acids, polymerase chain reaction (PCR) amplification, and real-time fluorescence detection in a single chamber. This streamlined design considerably simplifies the fabrication and operation of chip-based nucleic acid assays for detection of pathogens and other disease markers. A single 25-μL PCR chamber in a plastic chip houses a cellulose-based filter membrane (Whatman FTA
®
) for extraction of nucleic acids from the sample. Nucleic acids captured on the filter serve as a template for in situ PCR amplification. The single-use (disposable) microfluidics chip mates with a portable instrument that provides double-sided heating of the PCR chamber for rapid thermal cycling, and incorporates, real time fluorescence detection using a low-cost, miniaturized (ESE GmbH) fluorescence reader. We optimized multiple-pass sample loading of the FTA
®
membrane, vacuum drying of membrane, and membrane wash steps to improve extraction efficiency in a microfluidics format. The chip was tested with samples of
Bacillus cereu
s bacterial culture, and showed a limit of detection of ~10
3
target cells. The adaptation of this chip to practical microfluidics applications incorporating integrated pouches for storage and fluid actuation, and pre-loading of dry-stored PCR reagents is discussed, along with potential near-term applications.