01.05.2019 | Original Article | Ausgabe 10/2019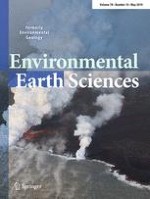 An integrated evaluation of groundwater quality using drinking water quality indices and hydrochemical characteristics: a case study in Jiroft, Iran
Zeitschrift:
Autoren:

Fatemeh Eslami, Kamyar Yaghmaeian, Amir Mohammadi, Mehdi Salari, Maryam Faraji
Wichtige Hinweise
Publisher's Note
Springer Nature remains neutral with regard to jurisdictional claims in published maps and institutional affiliations.
Abstract
Groundwater samples were collected from 105 wells in the Jiroft aquifer in southeastern Iran in 2017 to assess the suitability of the groundwater for potable use using water quality indices including the Canadian Council of Ministers of the Environment water quality index (CCMEWQI) and the modified drinking water quality index (MDWQI). Groundwater quality was also assessed by a number of statistical methods and the use of piper diagrams. The assessment of the groundwater quality using the CCMEWQI indicated that 79% of the groundwater samples fell in the "excellent" class for drinking usage. The results of the assessment with the MDWQI indicated that all samples could be categorized as having an "excellent" quality for potable use. An assessment of the groundwater data with principal component analysis produced two principal components that accounted for 86.88% of the variance of the data. Factor 1 had strong positive loadings for Na+, Ca2+, Cl−, SO42−, TH and TDS. This factor is likely to be linked to the combined effects of aquifer mineral–groundwater reactions and the result of evaporative concentration. Factor 2 had a strong positive loading for HCO3−. HCO3− is likely to have originated from carbonate dissolution and the microbial respiration of organic carbon in the soil profile. About of 80% of the water wells that were categorized in cluster 1 were found to be suitable for drinking water usage. A piper diagram indicated that Ca2+, Na+, HCO3−+CO32− and SO42− were the dominant ions in samples that were categorized as belonging to cluster 1. In cluster 2, Na+, SO42− and Cl− were the dominant ions.