27.12.2017 | Metallurgical Processes Workshop for Young Scholars | Ausgabe 2/2018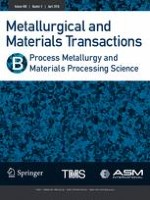 An Integrated Study on the Evolution of Inclusions in EH36 Shipbuilding Steel with Mg Addition: From Casting to Welding
Zeitschrift:
Autoren:

Xiaodong Zou, Dapeng Zhao, Jincheng Sun, Cong Wang, Hiroyuki Matsuura
Wichtige Hinweise
Manuscript submitted August 15, 2017.
Abstract
Inclusion evolution behaviors, in terms of composition, size, and number density, and associated influence on the microstructures of the as-cast slabs, rolled plates, and simulated welded samples of plain EH36 and EH36-Mg shipbuilding steels have been systematically investigated. The results indicate that the inclusions in the as-cast plain EH36 are almost Al-Ca-S-O-(Mn) complex oxides with sizes ranging from 1.0 to 2.0
μ
m. After Mg addition, a large amount of individually fine MnS precipitates and Mg-containing Ti-Al-Mg-O-(Mn-S) complex inclusions are generated, which significantly refine the microstructure and are conducive to the nucleation of acicular ferrite in the rolled and welded sample. Moreover, after rolling and welding thermal simulation, the number of individual MnS decreases gradually due to its precipitation on the surface of Ti-Al-Mg-O oxides.