2013 | OriginalPaper | Buchkapitel
1. An Introduction to Requirements Knowledge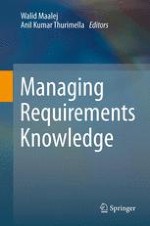 Autoren: W. Maalej, A. K. Thurimella
Verlag: Springer Berlin Heidelberg
Abstract
Requirements represent a verbalisation of decision alternatives on the functionality and quality of a system. Engineering, planning, and implementing requirements are collaborative, problem-solving activities, where stakeholders consume
and
produce considerable amounts of knowledge. Managing requirements knowledge is about efficiently identifying, accessing, externalising, and sharing this knowledge by and to all stakeholders, including analysts, developers, and users. This chapter introduces five foundations of managing requirements knowledge, which are discussed in the book parts. First,
identifying
requirements knowledge aims at externalising tacit knowledge such as rationale or presuppositions. Second,
representing
requirements knowledge targets an efficient information access and artefact reuse within and between projects. Third,
sharing
requirements knowledge improves stakeholders' collaboration and ensures that their experiences do not get lost. Fourth,
reasoning
about requirements and their interdependencies aims at detect inconsistencies and deriving new knowledge. Finally,
intelligent tool support
reduces the overhead to manage requirements knowledge.