2017 | OriginalPaper | Buchkapitel
An Introductory Course on Climate Change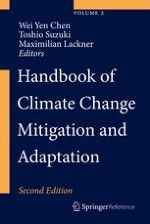 Erstes Kapitel lesen
Autor: Wei-Yin Chen
Abstract
The University of Mississippi offered a seminar course entitled Climate Change – Causes, Impacts and Solutions twice in the last 4 years. The immediate goal of this course is to raise the public awareness of the climate change issue. The second objective is to consolidate a knowledge base for the various outreach, education, and research activities on mitigating the climate change. Junior, senior, and graduate students of science and engineering majors were encouraged to take this course. About 25 speakers from Mississippi, Alabama, and Louisiana gave lectures that covered their expertise in a wide spectrum of areas that include causes, impacts, and solutions of climate change. The slides used in these lectures are posted on the course web site for public dissemination:
http://​home.​olemiss.​edu/​~cmchengs/​Global%20​Warming/​
. Students chose a specific research topic for approval in the early stage of the class. They submitted their research papers and made presentations at the end of the semester. Their overall performance is based on their classroom enthusiasm, final report, and presentation. When the course was offered for the first time, they also made recommendations to the Chancellor's Ole Miss Green Initiative of the University of Mississippi on the reduction of carbon emissions in the community. This chapter discusses the motivation, content, and outcomes of this course in detail.