01.07.2013 | Original Paper | Ausgabe 4/2013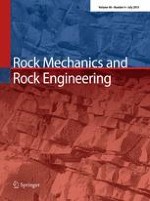 An Investigation of Discontinuity Roughness Scale Dependency Using High-Resolution Surface Measurements
Zeitschrift:
Autoren:

Bryan S. A. Tatone, Giovanni Grasselli
Abstract
The influence of roughness on the hydro-mechanical behavior of rock discontinuities has long been recognized. As a result, several definitions and measures of roughness have been developed. According to the ISRM (Int J Rock Mech Min Sci Geomech Abstr 15(6):319–368,
1978
), discontinuity roughness comprises large-scale (waviness) and small-scale (unevenness) components. However, the division between these scales is not clear and most investigations of surface roughness have been restricted to small fracture surfaces (<1 m
2
). Hence, the large-scale components of roughness are often neglected. Furthermore, these investigations typically define roughness using two-dimensional profiles rather than three-dimensional surfaces, which can lead to biased estimates of roughness. These limitations have led to some contradictory findings regarding roughness scale dependency (scale effects). This paper aims to provide some explanation of these contradictory findings. Through the in situ digitization and analysis of two adjacent large-scale (~2 × 3 m
2
and ~2 × 2 m
2
) migmatitic-gneiss fracture surfaces, the influence of sample size on roughness estimates are investigated. In addition, the influence of measurement resolution on roughness estimates is investigated by digitizing small-scale (100 × 100 mm
2
) samples from the same fracture with varying resolution. The findings show roughness to increase as a function of the sampling window size, in contrast to what is commonly assumed. That is, the combined waviness and unevenness of a discontinuity relative to its mean plane increases with scale. Compared to the sampling window size, the resolution of surface measurements is shown to have a far greater influence on roughness estimates. This influence of measurement resolution may explain some of the contradictory roughness scale relationships that have been published previously. It is important to note that the observed decrease in shear strength with increasing scale, as observed in many prior studies, is not being questioned; rather, a clarification of the role of roughness in this phenomenon is sought.