01.04.2015 | Ausgabe 4/2015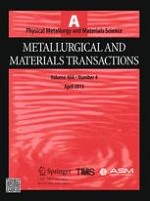 An Investigation of High-Temperature Precipitation in Powder-Metallurgy, Gamma/Gamma-Prime Nickel-Base Superalloys
Zeitschrift:
Autoren:

S. L. Semiatin, S-L. Kim, F. Zhang, J. S. Tiley
Wichtige Hinweise
Manuscript submitted September 22, 2014.
Abstract
The high-temperature-precipitation behavior of a typical powder-metallurgy, gamma-gamma-prime, nickel-base superalloy (LSHR) was determined and used to develop and validate a quantitative fast-acting model. To this end, a series of experiments comprising supersolvus solution treatment followed by continuous cooling at rates typical of those experienced during the manufacture of full-scale components was conducted for LSHR. The nucleation and growth of secondary-gamma-prime precipitates were deduced
via
metallography on samples water quenched at various temperatures during the cooling cycle. Further insight on nucleation and the extent of retained supersaturation during cooling was obtained from
in situ
synchrotron (X-ray diffraction) experiments involving cooling of LSHR samples at identical rates with or without a hold time at an intermediate temperature. The observations were interpreted using a fast-acting (spreadsheet) model which incorporated the important aspects of classical, homogeneous-nucleation theory and growth by bulk diffusion. In this regard, particular attention was paid to the determination of model input parameters such as the composition, free energy of formation, and surface energy of precipitates, and an effective diffusivity; the values so determined contrasted with those from existing thermodynamic and diffusion databases. It was demonstrated that fast-acting-model calculations based on a nickel-chromium pseudo-binary system gave good agreement with measurements of the evolution of precipitate volume fraction, number density, and size during continuous cooling.