01.09.2013 | Ausgabe 9/2013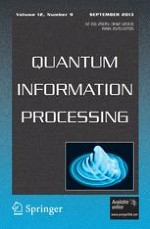 An optical gate for simultaneous fusion of four photonic W or Bell states
Zeitschrift:
Autoren:

Can Yesilyurt, Sinan Bugu, Fatih Ozaydin
Abstract
In order to create large-scale polarization entangled W states, there have been several proposals and some experimental demonstrations. An outstanding proposal is a simple setup which probabilistically fuses two W states of arbitrary sizes
\(n\ge 3\)
and
\(m\ge 3\)
, creating a W state of size
\(n+m-2\)
(Ozdemir et al., in: New J Phys 13:103003,
2011
). Using this setup as building blocks, we propose a new setup which can fuse four W states simultaneously. The proposed setup can fuse W states of size 2, i.e. Bell states, as well. We study the resource cost of our fusion process for two main scenarios, i.e. starting from sizes 2 and 3. We present some cost efficient cases, as compared to the previous work.