2012 | OriginalPaper | Buchkapitel
1. An Overview: Building a Global Knowledge Base of Lessons Learned from Good Practices in Multi-Hazard Early Warning Systems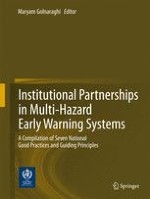 Autor: Maryam Golnaraghi
Verlag: Springer Berlin Heidelberg
Abstract
Every year natural hazards cause significant loss of life, and set back economic and social development by years if not decades in many countries, particularly those with least resources. From 1980 to 2008, weather-, water- and climate-related hazards and conditions accounted for 90% of total number of disasters, 70% of the two million casualties, and 75% of total economic losses.
According to the Fourth Assessment Report of the Intergovernmental Panel on Climate Change (IPCC), new scientific evidence has revealed that potential risks associated with weather-related hazards are on the rise, owing to the increasing frequency and severity of droughts, extreme temperatures, severe precipitation and severe storms, linked to climate variability and change. In addition, over the last five years the world has witnessed a number of "unusual" extreme events such as:
i. The severe cyclone storm GONU that affected Oman, Iran and the United Arab Emirates in 2007, noting that it was the second cyclonic storm making landfall in Iran in more than 100 years, since 1898,
ii. Tropical cyclone NARGIS the first such storm to hit Myanmar in 40 years resulted in death of over 140,000 people and estimated losses at nearly 3% of the national GDP for 2008, and;
iii. Tropical cyclone Catarina that affected Brazil in March 2004, was the first hurricane-intensity tropical cyclone ever recorded in the Southern Atlantic Ocean.
Could these become more of the rule than the exception? Are new patterns of risks emerging? If countries are challenged with managing the current level of risk associated with these hazards; how can they address the increasing and changing patterns of risks, in the future?
However, as illustrated in Fig. 1.1, over the last five decades, while economic losses associated with hydro-meteorological hazards have increased, there has been a significant decrease in loss of life. This has been attributed to the development of effective early warning systems, based on advancements in monitoring and forecasting of weather-related hazards (Box 1.1, Box 1.2), combined with effective communication and emergency preparedness at national to local levels in several countries with a history of high-impact weather-related hazards, such as Cuba, Bangladesh, France, and the United States.