Erschienen in: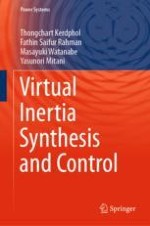 2021 | OriginalPaper | Buchkapitel
1. An Overview of Virtual Inertia and Its Control
Abstract
Today, due to the widespread penetration of renewable energy sources (RESs) and distributed generators (DGs), a new power system stability issue has emerged. This issue is the reduction and variation of inertia in the power system and is triggered by the utilization of power electronics interfaces to connect the RESs and DGs into the system, leading to a higher system uncertainty that needs more complex system operation and control. To maintain system reliability and providing efficient use of RESs and DGs, the synthesis and control of virtual inertia should be a key technology to achieve a flexible operation in today and future power systems. This chapter provides an introduction to the fundamental aspects of synthesis and control of virtual inertia for the purpose of the power system controls. An overview of the low inertia issue in the system with a high share of RESs and the role of virtual inertia are highlighted. The concept of virtual inertia emulation is briefly presented. Finally, the past achievements in the synthesis of virtual inertia respect to power system stability and control are briefly reviewed.