01.04.2014 | Ausgabe 2/2014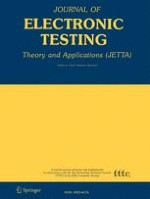 An RTN Variation Tolerant SRAM Screening Test Design with Gaussian Mixtures Approximations of Long-Tail Distributions
Zeitschrift:
Autoren:

Worawit Somha, Hiroyuki Yamauchi
Wichtige Hinweise
Responsible Editor: F. L. Vargas
Abstract
This paper points out that the ordinary screening-test design (STD) will be no longer available when once the random telegraph noise (RTN) could not be ignored any more, resulting from a significantly increasing of the time-dependent modulation of the overall voltage-margin variations (OVMV). Since the major RTN effect on the OVMV modulation comes up after the screening, the actual precision of the STD must rely entirely upon the estimation accuracy of the RTN effect. The proposed STD is based on the developed statistical convolution model capable of fulfilling the following requirements: (1) precisely approximating the non Gaussian tail distribution of the RTN by simple Gaussian mixtures model (GMM), (2) accurately convoluting the RTN tail with the distribution of the Gaussian random dopant fluctuation (RDF). The proposed concepts are 1) sequentially and adaptively segmentation of the long tailed distributions such that the log-likelihood of the GMM in each segment is maximized. It has been verified that the proposed method can reduce the error of the fail-bit predictions by 3-orders of magnitude at the interest raw score where the fail probability pdf = 10−12 which corresponds to a 99.9 % yield for 1Gbit chips.