2019 | OriginalPaper | Buchkapitel
An Update on Machine Learning in Neuro-Oncology Diagnostics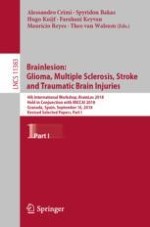 Erstes Kapitel lesen
Autor: Thomas C. Booth
Abstract
Imaging biomarkers in neuro-oncology are used for diagnosis, prognosis and treatment response monitoring. Magnetic resonance imaging is typically used throughout the patient pathway because routine structural imaging provides detailed anatomical and pathological information and advanced techniques provide additional physiological detail.
Following image feature extraction, machine learning allows accurate classification in a variety of scenarios. Machine learning also enables image feature extraction
de novo
although the low prevalence of brain tumours makes such approaches challenging.
Much research is applied to determining molecular profiles, histological tumour grade and prognosis at the time that patients first present with a brain tumour. Following treatment, differentiating a treatment response from a post-treatment related effect is clinically important and also an area of study. Most of the evidence is low level having been obtained retrospectively and in single centres.