22.06.2019 | ORIGINAL ARTICLE | Ausgabe 6/2019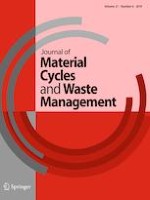 Anaerobic co-digestion of municipal solid wastes with giant reed under mesophilic conditions
Zeitschrift:
Autoren:

Firas Al-Zuhairi, Luca Micoli, Ciro Florio, Angelo Ausiello, Maria Turco, Domenico Pirozzi, Giuseppe Toscano
Wichtige Hinweise
Publisher's Note
Springer Nature remains neutral with regard to jurisdictional claims in published maps and institutional affiliations.
Abstract
Anaerobic co-digestion of mixed feedstocks improves the biogas yields due to a better balance of nutrients in the digestion medium. A suitable choice for improving biogas yields from the anaerobic digestion of municipal solid wastes is the co-digestion with lignocellulosic materials. The growing exploitation of the giant reed in several industrial fields motivated a preliminary investigation on the anaerobic co-digestion of steam-exploded giant reed and the organic fraction of municipal solid wastes (OFMSW).The anaerobic digestion was carried out at 37 °C, in batch operation mode. Biogas volumes produced and the concentration–time profiles of volatile fatty acids were analysed for different initial ratios of the mixed feedstock. All the mixtures performed better than the single feedstock. The optimal biogas yield was obtained with the co-digestion of a mixture containing 75% OFMSW and 25% giant reed, which produced 236 mL CH4/g VS with a 1.5-fold increase respect to the digestion of OFMSW alone.