31.01.2019 | ORIGINAL ARTICLE | Ausgabe 3/2019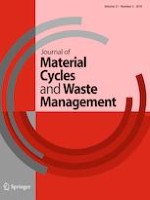 Anaerobic co-digestion of tannery wastes using two stage anaerobic sequencing batch reactor: focus on process performance of hydrolytic–acidogenic step
Zeitschrift:
Autoren:

Shifare Berhe, Seyoum Leta
Wichtige Hinweise
Publisher's Note
Springer Nature remains neutral with regard to jurisdictional claims in published maps and institutional affiliations.
Abstract
This study was carried out to optimize the working conditions hydrolytic–acidogenic step of the two stage anaerobic sequencing batch reactor (ASBR) system during anaerobic co-digestion of tannery wastewater (TWW) and tannery solid waste (TSW) under mesophilic temperature (38 ± 2 °C) for enhanced acidification products. For this purposes four laboratory scale digesters with 0.4 L working volume performed in semi-continuous mode operation were used. Four mixing ratios of substrate (100:0, 75:25, 50:50, 25:75) at hydraulic retention time (HRT) of 5, 3 and 1 days and equivalent organic loading rate (OLR) were examined to assess the effect of each operating parameter on process performance of hydrolytic–acidogenic step in the two stage ASBR. The optimized operating conditions obtained in this study for enhanced performance of hydrolytic–acidogenic step were substrate mixing ratio of 50:50, HRT of 5 days, OLR of 1.20 gCOD/L/day and pH of 6.2. The degree of acidification and hydrolysis (%) achieved in the reactor operated at those optimized parameters were 36.55% and 54.8%, respectively. In general anaerobic co-digestion of TWW with TSW is more important than using TWW alone for enhanced acidification products. This is because of the positive synergistic effects of the TSW in terms of well-balanced nutrients and an appropriate C:N ratio.