2020 | OriginalPaper | Buchkapitel
Anaerobic Digestion of Food Waste: The Effect of
Candida rugosa

Lipase Amount on the Digestive Activity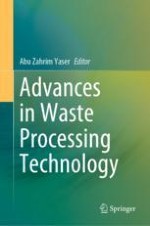 Erstes Kapitel lesen
Autoren: Mariani Rajin, Abu Zahrim Yaser, Sariah Saalah, Yogananthini Jagadeson, Siti Nazihah Ibrahim, Muhammad Syah Azhar Mislahani
Verlag: Springer Singapore
Abstract
The large amount of food waste generated becomes one of the problems to the environment. Anaerobic digestion of food waste has been identified as an alternative to overcome this problem. The main constraint for the anaerobic digestion is the relatively slow hydrolysis of the substrate. Enzyme addition has been reporting to be applied in enhancing the hydrolysis. Therefore, in this work,
Candida rugosa
lipase is added to the system to facilitate the anaerobic digestion. The anaerobic digestion is conducted for 40 day, using 15 and 30 mg of lipase. The effect of lipase amount on the digestate has been studied. It was found that the
Candida rugosa
lipase added did not improve the moisture content achieved at the end of the digestion process. The samples with lipase obtained lower pH as compared to the control. Both lipase amount of 15 and 30 mg achieved identical pH value of 4.3. The samples with 30 mg of lipase have higher electrical conductivity values as compared to those with 15 mg lipase and control sample on day 30. At the end of the digestion process, the reduction of total organic carbon in the samples with 30 mg of lipase is higher in comparison with 15 mg and control samples. The organic matter loss achieved with 30 mg of lipase is found to be 30.2%. Food waste with higher concentration of lipase shows better degradation.