2013 | OriginalPaper | Buchkapitel
Anaerobic Microbial Community in the Aerobic Water and at the Oxic/Anoxic Interface in the Black Sea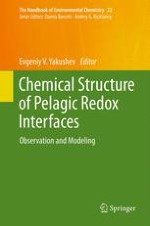 Erstes Kapitel lesen
Autoren: N. V. Pimenov, A. L. Bryukhanov, V. A. Korneeva, E. E. Zakharova, P. A. Sigalevich, I. I. Rusanov, E. V. Yakushev, V. K. Chasovnikov
Verlag: Springer Berlin Heidelberg
Abstract
Fluorescent in situ hybridization (FISH) was used to analyze the abundance and phylogenetic composition of physiologically active anaerobic microbial communities [sulfate-reducing bacteria (SRB) and methanogenic archaea] in the aerobic waters and in the oxic/anoxic transitional zone (chemocline) of the Black Sea. Biogenic sulfate reduction and methane formation were detected at these horizons by radioisotope techniques. Numerous SRB phylogenetically related to
Desulfotomaculum
(30.5% of detected bacterial cells),
Desulfovibrio
(29.6%), and
Desulfobacter
(6.7%) were detected in the aerobic zone at a depth of 30 m, whereas
Desulfomicrobium
-related bacteria (33.5%) were prevalent in chemocline at a depth of 150 m. In the oxic subsurface water layer, Methanomicrobiales-related archaea and subgroup 1 methanogens constituted up to 62 and 35.3% of archaeal cell, respectively. The active cells of sulfate-reducing and methanogenic microorganisms were much more abundant in the samples collected in summer than in winter from the deep-sea zone. The presence of physiologically active anaerobic microorganisms in oxic and chemocline waters of the Black Sea correlates with the hydrochemical data on the presence of sulfide and methane at corresponding depths.