01.08.2016 | Thematic Issue | Ausgabe 16/2016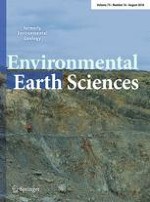 Analyses of traits and driving forces on urban land expansion in a typical coal-resource-based city in a loess area
Zeitschrift:
Autoren:

Yingui Cao, Zhongke Bai, Wei Zhou, Xiaoran Zhang
Wichtige Hinweise
This article is part of a Topical Collection in Environmental Earth Sciences on "Environment and Health in China II", guest edited by Tian-Xiang Yue, Cui Chen, Bing Xu and Olaf Kolditz.
Abstract
The development of coal-resource-based cities is cyclical and presents different traits affected by different socio-economic driving forces in each stage. In this paper, we study urban land expansion in the Pinglu District in Shuozhou City, Shanxi Province, China, by interpreting six-phase remote sensing images to reveal the traits and driving forces of urban land expansion during different stages. Overall, the following results were observed. (1) Urban land expansion was obvious from 1986 to 2013, with an increase of 992.80 ha, mainly due to the occupation of cultivated land. Urban land expansion mainly occurred along the periphery of the city, which was 1–2 km from the urban centre. (2) The influence of the coal industry on urban land expansion can be divided into two stages, the establishment stage of the coal industry system and the development stage of coal industry promotion and urbanization. (3) The traits of urban land expansion matched economic models and traits. The non-agricultural population and industrial electricity consumption can reflect how economic development can impact urban land expansion. The periodic traits of urban land expansion and the coal industry life cycle have shown a high degree of consistency. Furthermore, the results of this study could serve as a reference for resource-based cities regarding urban land use and sustainable development.