2006 | OriginalPaper | Buchkapitel
Analysis and effective properties of honeycombs with non-symmetric unit cells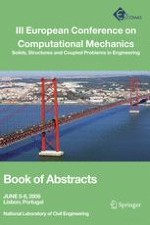 Erstes Kapitel lesen
Autoren: Fabian Lipperman, Michael Ryvkin, Moshe B. Fuchs
Verlag: Springer Netherlands
Planar cellular materials, or honeycombs, are considered as two-phase materials where the properties of one of it phases (voids) degenerates to zero. They are characterized by a low relative density and herein we assume that the solid phase of the material can be modeled as an assembly of axially loaded rods or general flexural elements in infinite and repetitive truss or frame structures, respectively. For the analysis and evaluation of the effective mechanical properties of a 2D cellular material the repetitive structure representing the material is assumed to be in a repetitive stress state. This allows for the analysis to be performed on a single repetitive cell under appropriate boundary conditions. However, all published results refer to cellular materials with repetitive modules possessing at least two orthogonal axes of symmetry. It seems that no general method of analysis of cellular material construed as infinite repetitive structures under periodic stresses for arbitrary repetitive cells is available, unless, as said, the repetitive cell possesses at least two perpendicular axes of symmetry. This is the subject matter of this study - to present a general exact technique to analyze infinite repetitive structures, with nonsymmetrical repetitive cells, under periodic stresses.
We will be using a displacement based approach with a direct assembly of the stiffness matrix of a single repetitive cell. The repetitive infinite structures are loaded by stresses applied at infinity. The global displacements of the unit cell are formed by both micro displacements, which are the displacements of the nodes of the unit cell, and macro displacements, which arise from the distortion of the unit cell. Elements inside the cell are assembled in the classical manner. Elements which cross the boundaries are construed as being connected to an internal node and to a subset of the distortional displacements. This leads to a simple assembly procedure followed by the solution of a small set of equilibrium equations.
The technique enables to find the effective elastic properties of any general periodic topology. As a consequence, several optimal low density honeycombs with symmetric and non-symmetric topologies whose effective bulk modulus and conductivity coincide with the Hashin-Shtrikman upper bounds, were found.