12.06.2019 | Original Paper | Ausgabe 2/2019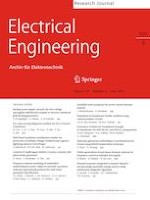 Analysis of conductor clashing experiments
Zeitschrift:
Autoren:

E. Sutlovic, I. Ramljak, M. Majstrovic
Wichtige Hinweise
Publisher's Note
Springer Nature remains neutral with regard to jurisdictional claims in published maps and institutional affiliations.
Abstract
Conductor clashing is one of the possible mechanisms how an overhead power line can cause wildfires. During the contact of two bare conductors of the energized power line on different potentials, or in the case of an arc between them, generated heat can cause melting and vaporization of the conductor material. The pressure from the gasified metal may be high enough to eject the molten metal as small particles, which are then carried away by the wind. Consequently, molten or combusting metal particles expelled during faults will fall below or, supported by the wind, in the surrounding area of the power line which can result in ignition of the flammable vegetation on the ground. The important characteristics of the clashing fault are the energy of the arc and the erosion of the conductor material. The arc current and the arc duration determine the amount of material removed from the conductor, the size and number of the generated particles and the thermodynamic state of the particles. There are only a few published experimental researches dealing with the characteristics of the generated particles after the arcing of the conductors. All of them are laboratory simulations of the conductor clashing. This paper describes experiments of an overhead line conductor clashing in a live low-voltage distribution network protected by fuses, as well as observations noted during the experimentation and during the processing of the measured results. The aim of the experiments was to study the phase of the particle generation in realistic conditions in the electrical network and to investigate the operation of the power line protection in case of the conductor clashing at different places along the line. The data analysis of a series of experiments has shown the impact of the wind speed, the fault duration, the fault current magnitude as well as the impact of the conductor clashing site on the particle size and the number of particles.