01.01.2015 | Ausgabe 1/2015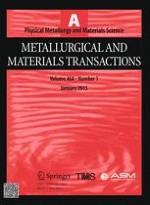 Analysis of Creep Rupture Behavior of Cr-Mo Ferritic Steels in the Presence of Notch
Zeitschrift:
Autoren:

Sunil Goyal, K. Laha, C. R. Das, M. D. Mathew
Wichtige Hinweise
Manuscript submitted February 3, 2014.
Abstract
Effect of notch on creep rupture behavior of 2.25Cr-1Mo, 9Cr-1Mo, and modified 9Cr-1Mo ferritic steels has been assessed. Creep tests were carried out on smooth and notched specimens of the steels in the stress ranging 90 to 300 MPa at 873 K (600 °C). Creep rupture lives of the steels increased in the presence of notch over those of smooth specimens, thus exhibiting notch strengthening. The strengthening was comparable for the 9Cr-1Mo and 2.25Cr-1Mo steels and appreciably more in modified 9Cr-1Mo steel. The strengthening effect was found to decrease with the decrease in applied stress and increase in rupture life for all the steels. The presence of notch decreased the creep rupture ductility of the steels significantly and the 2.25Cr-1Mo steel suffered more reduction than in the other two 9Cr-steels. Finite element analysis of stress distribution across the notch was carried out to understand the notch strengthening and its variation in the steels. The variation in fracture appearance has also been corroborated based on finite element analysis. Reduction in von-Mises stress across the notch throat plane resulted in strengthening in the steels. Higher reduction in von-Mises stress in modified 9Cr-1Mo steel than that in 2.25Cr-1Mo and 9Cr-1Mo steels induced more strengthening in modified 9Cr-1Mo steel under multiaxial state of stress.