2019 | OriginalPaper | Buchkapitel
Analysis of Dense Gas Effects in Compressible Turbulent Channel Flows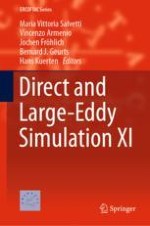 Erstes Kapitel lesen
Autoren: L. Sciacovelli, P. Cinnella, X. Gloerfelt
Abstract
In this work we investigate the influence of dense gas effects on compressible wall-bounded turbulence. Turbulent flows of dense gases represent a research field of great importance for a wide range of applications in engineering. Dense gases are single-phase fluids with a molecular complexity such that the fundamental derivative of gas dynamics (Thompson, Phys Fluids, 14:1843–1849, 1979, [
1
])
\(\varGamma := 1 + \frac{\rho }{c} \left. \frac{\partial c}{\partial \rho }\right| _s\)
(where
\(\rho \)
is the density,
p
the pressure,
s
the entropy, and
c
the sound speed), which measures the rate of change of the sound speed in isentropic transformations, is less than one in a range of thermodynamic conditions close to the saturation curve. In such conditions, the speed of sound increases in isentropic expansions and decreases in isentropic compressions, unlike the case of perfect gases. For dense gases, the perfect gas model is no longer valid, and more complex equations of state must be used to account for their peculiar thermodynamic behavior. Moreover, in the dense gas regime, the dynamic viscosity
\(\mu \)
and the thermal conductivity
\(\lambda \)
depend on temperature and pressure through complex relationships. Similarly, the approximation of nearly constant Prandtl number
Pr
=
\(\mu c_p/\lambda \)
is no longer valid. Numerical simulations of turbulent dense gas flows of engineering interest are based on the (Reynolds-Averaged Navier–Stokes) RANS equations, which need to be supplemented by a model for the Reynolds stress tensor and turbulent heat flux. The accuracy of RANS models for dense-gas flows has not been properly assessed up to date, due to the lack of both experimental and numerical reference data.