2006 | OriginalPaper | Buchkapitel
Analysis of displacement and stress distributions in riveted joints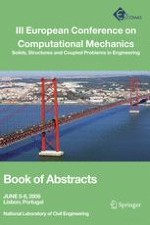 Erstes Kapitel lesen
Autoren: E. Szymczyk, A. Derewońko, J. Jachimowicz
Verlag: Springer Netherlands
This paper deals with the displacement and stress analyses in riveted joint. This is a stage of study of the local physical phenomena in riveted joint. The aim of the investigation is to improve the prediction method for the joint failure mode associated with a crack initiation and propagation at a rivet hole. Riveting is the most commonly used method of joining sheet metal components of the aircraft structures. The residual stress and strain state appears in the joint after the riveting process. Furthermore in service condition aircraft structures are subjected to variable fatigue loads. The riveted joints are critical areas of the aircraft structure due to severe stress concentrations, plastic strain and effects such as surface damage (fretting wear) and secondary bending. Therefore the fatigue crack initiation will start at the rivets holes. Fretting fatigue is recognised as a surface damage phenomenon and describes situation where microslip between contacting surfaces appears to give rise to reduction in fatigue life [
2
].
The object of the analysis is a tensile loaded lap joint. Fatigue tests are performed for the riveted joint specimens consisting of a steel rivet (shank diameter 5mm) and two D-16 aluminium alloy plates (thickness 2.8 mm). Steel and aluminium interaction due to their different properties causes fretting corrosion and decreasing in fatigue life. This feature is convenient to experimental tests. Numerical FE simulations are carried out with the MARC code for a single lap riveted joint specimen. Three-dimensional numerical model is used to analyse the resulting displacement fields at a hole and a rivet in the neighbourhood of a contact interface. Relative displacements between the rivet and the hole are investigated for various friction coefficients. The local numerical model describes a single rivet, a hole and its neighbourhood in two plates. This type of problem requires the use of contact between the elements assembled and non-linear geometric and elasto-plastic multilinear material models to simulate the behaviour of the rivet and plates [
1
]. The double sided contact for deformable bodies is defined between the two metal plates and between the rivet and the hole.
Although the literature on the fatigue behaviour of riveted joints is quite abundant, many aspects are still not sufficiently understood and investigated and, therefore, they require a further study. The advantage of the numerical simulation is to limit development costs and to improve analysis by giving more complete information about contact stress compared to the pure experimental way.