01.11.2018 | CLASSICAL PROBLEMS OF LINEAR ACOUSTICS AND WAVE THEORY | Ausgabe 6/2018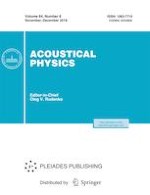 Analysis of Forced Vibrations in a Functionally Gradient Cylindrical Waveguide
Zeitschrift:
Autoren:

A. O. Vatul'yan, V. O. Yurov
Wichtige Hinweise
Translated by E. Golyamina
Abstract

—

Wave propagation that occurs in a prestressed cylindrical waveguide with inhomogeneity along the radial coordinate under a periodic radial load concentrated in a ring-shaped region is investigated. With the use of Fourier integral transform, the problem is reduced to analyzing an operator sheaf depending on two parameters. Structural features of the dispersion set are investigated, and displacement components are determined based on the theory of residues and the analysis of an auxiliary spectral problem.