Erschienen in: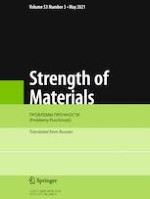 23.10.2021 | SCIENTIFIC AND TECHNICAL SECTION
Analysis of Irradiation Swelling and Irradiation Creep Models with the Stress Effect Account in the Problems of Inelastic Strain Mechanics. Part 2. Correctness Check of Conditions of the Constitutive Equations
Erschienen in: Strength of Materials | Ausgabe 3/2021
Einloggen, um Zugang zu erhalten
Abstract
The results of an analysis of the correctness of constitutive equations of irradiation creep which describe non-isothermal processes of inelastic deformation taking into account radiation swelling and radiation creep of material under the conditions of neutron irradiation, high temperatures and damaging dose, are presented. Modern models of radiation swelling and radiation creep, which take into account the damaging dose, irradiation temperature, and the influence of stress state on the processes of swelling and creep of irradiated material are considered. Using these models, constructive equations are formulated, which allow the processes of inelastic deformation to be described taking into account the radiation swelling and radiation creep strains of the material. The conditions under which the equations of radiation creep are consistent with the principle of irreversibility of inelastic deformation power increment are investigated. Based on the results of the analysis of the properties of constitutive equations, the necessary and sufficient conditions under which the power of dissipation and the power which is developed by additional stresses on additional deformations do not decrease during the loading of the irradiated material have been determined. On the basis of the obtained energy inequalities, which generalize Drucker's postulate concerning the irradiated material, and the general results of the analysis of the properties of nonlinear operators, the conditions that ensure the correctness of the formulated creep equations have been determined. It was found that taking into account radiation creep strains contributes to the relaxation of restrictions on the initial data, which ensure the correctness of the constiyive equations. According to the a priori estimates obtained, the duration of loading stages is determined not only by the data on the convergence and accuracy of the solution of creep equations, which describe the process of deformation of irradiated material, but also by the conditions under which they can be solved. We present a priori estimates of the maximum permissible value of the damaging dose for austenitic 08Kh18N10T steel at different irradiation temperatures. In strength calculations, such estimates are useful at the stage of problem statement to analyze the adequacy of initial data.