17.10.2019 | Technical Paper | Ausgabe 4/2020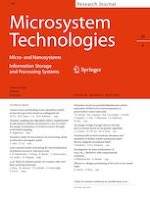 Analysis of propagation characteristics of AlN/diamond/Si layered SAW resonator
Zeitschrift:
Autoren:

Luyao Wang, Hongliang Wang
Wichtige Hinweise
Publisher's Note
Springer Nature remains neutral with regard to jurisdictional claims in published maps and institutional affiliations.
Abstract
Surface acoustic wave (SAW) devices have attracted much attention in the field of mobile communication, such as filters and duplexers. With the upgrading of mobile networks, the requirements for the working frequency of SAW devices are gradually increasing. Traditional single-layer piezoelectric SAW devices can not meet the requirements of today's performance. However, a new type of layered structure not only meets various performance requirements, but also provides a new direction for the development of SAW devices. In this paper, a layered structure of AlN/diamond/Si SAW resonator is designed. A two-dimensional unit structure model is established. Modal analysis and admittance characteristic analysis are carried out. The optimal design structure is obtained by choosing form the thickness of different electrodes and piezoelectric layers. Following this, the transient analysis of the two-dimensional complete resonator structure is carried out. Next, the propagation characteristics are obtained, and finally the input and output signals are compared. Compared with the single piezoelectric layer structure, the phase velocity and electromechanical coupling coefficient are increased by 32.2% and 49.6% respectively. The work in this paper lays a good foundation for the fabrication of high frequency layered SAW resonators above GHz.