01.02.2014 | Paper | Ausgabe 1/2014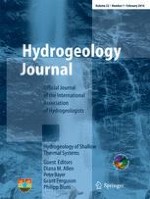 Analysis of recovery efficiency in high-temperature aquifer thermal energy storage: a Rayleigh-based method
Zeitschrift:
Autoren:

Gilian Schout, Benno Drijver, Mariene Gutierrez-Neri, Ruud Schotting
Wichtige Hinweise
Published in the theme issue "Hydrogeology of Shallow Thermal Systems"
Abstract
High-temperature aquifer thermal energy storage (HT-ATES) is an important technique for energy conservation. A controlling factor for the economic feasibility of HT-ATES is the recovery efficiency. Due to the effects of density-driven flow (free convection), HT-ATES systems applied in permeable aquifers typically have lower recovery efficiencies than conventional (low-temperature) ATES systems. For a reliable estimation of the recovery efficiency it is, therefore, important to take the effect of density-driven flow into account. A numerical evaluation of the prime factors influencing the recovery efficiency of HT-ATES systems is presented. Sensitivity runs evaluating the effects of aquifer properties, as well as operational variables, were performed to deduce the most important factors that control the recovery efficiency. A correlation was found between the dimensionless Rayleigh number (a measure of the relative strength of free convection) and the calculated recovery efficiencies. Based on a modified Rayleigh number, two simple analytical solutions are proposed to calculate the recovery efficiency, each one covering a different range of aquifer thicknesses. The analytical solutions accurately reproduce all numerically modeled scenarios with an average error of less than 3 %. The proposed method can be of practical use when considering or designing an HT-ATES system.