08.03.2016 | Ausgabe 5/2016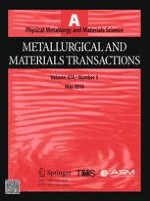 Analysis of Slip Activity and Deformation Modes in Tension and Tension-Creep Tests of Cast Mg-10Gd-3Y-0.5Zr (Wt Pct) at Elevated Temperatures Using
In Situ

SEM Experiments
Zeitschrift:
Autoren:

Huan Wang, Carl J. Boehlert, Qudong Wang, Dongdi Yin, Wenjiang Ding
Wichtige Hinweise
Manuscript submitted March 14, 2015.
Abstract
The tension and tension-creep deformation behavior at elevated temperatures of a cast Mg-10Gd-3Y-0.5Zr (wt pct, GW103) alloy was investigated using
in situ
scanning electron microscopy. The tests were performed at temperatures ranging from 473 K to 598 K (200 °C to 325 °C). The active slip systems were identified using an EBSD-based slip trace analysis methodology. The results showed that for all of the tests, basal slip was the most likely system to be activated, and non-basal slip was activated to some extent depending on the temperature. No twinning was observed. For the tension tests, non-basal slip consisted of ~35 pct of the deformation modes at low temperatures (473 K and 523 K (200 °C and 250 °C)), while non-basal slip accounted for 12 and 7 pct of the deformation modes at high temperatures (573 K and 598 K (300 °C and 325 °C)), respectively. For the tension-creep tests, non-basal slip accounted for 31 pct of the total slip systems at low temperatures, while this value decreased to 10 to 16 pct at high temperatures. For a given temperature, the relative activity for prismatic slip in the tension-creep tests was slightly greater than that for the tension tests, while the activity for pyramidal slip was lower. Slip-transfer in neighboring grains was observed for the low-temperature tests. Intergranular cracking was the main cracking mode, while some intragranular cracks were observed for the tension-creep tests at high temperature and low stress. Grain boundary ledges were prevalently observed for both the tension and tension-creep tests at high temperatures, which suggests that besides dislocation slip, grain boundary sliding also contributed to the deformation.