21.07.2018 | Ausgabe 6/2018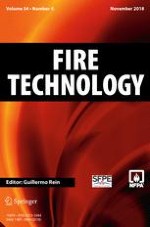 Analysis of Structures in Fire as Simplified Skeletal Frames Using a Customised Beam Finite Element
Zeitschrift:
Autoren:

Richard Shaun Walls, Celeste Viljoen, Hennie de Clercq
Wichtige Hinweise
Publisher's Note
Springer Nature remains neutral with regard to jurisdictional claims in published maps and institutional affiliations.
Abstract
This paper presents a customised beam finite element and analysis formulation for structures in fire, where structures are modelled as skeletal frames, even for composite frames. This provides a simple and fast approach, suitable for design office analyses, with the objective of making structural fire design more accessible for consulting engineers. The methodology proposed has a generic formulation so is suitable for concrete, steel or composite structures. A single, resultant bending and axial stiffness is calculated for a generic cross-section. Stiffnesses are calculated about updated neutral axis positions, which can change during analyses. Thermal effects are applied using resultant pseudo forces. Three case studies are investigated with predicted and experimental deflections showing good correlation. Case Study 1 presents a concrete slab subjected to a standard fire, and deflections predicted by the proposed methodology are between 4.7% and 16.9% different from experimental results, comparable to an advanced modelling system. Two composite beams are considered in Case Study 2. Results for the first composite beam are almost indistinguishable from deflections predicted by a significantly more complicated 3D analysis method in the literature. The runaway failure that occurs during the second composite beam experiment is anticipated by the proposed formulation. In Case Study 3 a full composite floor slab subjected to a real fire is investigated. A novel contribution of the paper is demonstrated in that a slab experiencing tensile membrane action can be modelled using a series of beam elements. Predicted deflections are typically in the order of 12.7% different from experimental results (with both over and under predictions occurring), closer to experimental results than a contemporary full 3D analysis. The aforementioned case studies are carried out using subroutines coupled with a simple, commercially available, finite element program to demonstrate the effectiveness of the approach.