01.08.2014 | Original Paper | Ausgabe 3/2014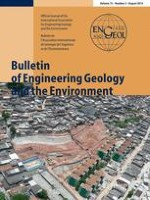 Analysis of the plastic deformation behavior of schist and schistose mica gneiss at Khimti headrace tunnel, Nepal
Autoren:

Pawan Kumar Shrestha, Krishna Kanta Panthi
Abstract
The Khimti headrace tunnel experienced instability related to tunnel deformations in several tunnel stretches through mica schist and schistose mica gneiss rock mass. The monitored convergence pattern indicated that the tunnel deformation continued for a long period of time after excavation. This paper aims to analyze plastic deformation behavior of the selected four headrace tunnel sections with considerable deformation where extensive deformation monitoring was conducted. The Convergence Law proposed by Sulem et al. (Int J Rock Mech Min Sci Geomech 24(3):145–154,
1987a
) for estimating long-term time-dependent deformation, and the convergence confinement method proposed by Carranza-Torres and Fairhurst (Tunn Undergr Space Technol 15(2):187–213,
2000
) for estimating tunnel convergences have been used as analytical tools for the assessment. The achieved results are compared, and similarities and differences are discussed. In addition, the results are also verified by three-dimensional (3D) numerical modeling. The achieved results indicated a fairly good match between measured, back-calculated and numerically modeled results. However, one should note that such calculations are highly sensitive to the accuracy and reliability of the estimated input parameters.