2014 | OriginalPaper | Buchkapitel
Analysis of Time Variations of the Gravity Field Over Europe Obtained from GRACE Data in Terms of Geoid Height and Mass Variation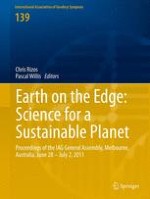 Erstes Kapitel lesen
Autoren: Jan Krynski, Grazyna Kloch-Glowka, Malgorzata Szelachowska
Verlag: Springer Berlin Heidelberg
Abstract
Time variations of the gravity field obtained from the series of geopotential models developed from GRACE (Gravity Recovery and Climate Experiment) data can be interpreted in terms of geoid heights and mass time variations with unprecedented temporal resolution.
Following the results of the authors previous research, the series of filtered monthly solutions of geopotential models developed from GRACE data and GLDAS (Global Land Data Assimilation System) hydrological models were used in the analysis. Variations of hydrology and geoid heights at the continental part of Europe and selected 14 subareas were estimated with a spatial resolution of 0.5º × 0.5º for the period August 2002–June 2010. Variations in mass distribution obtained from geopotential models were compared with the respective results obtained from hydrological data.
Annual periodicity of hydrology and geoid height variations with minima in September and maxima in March is observed for the area of Europe. The linear trend is also present in the signal. Contrary to the area of Northern Europe (Norway, Sweden, Finland) where dominates the signal due to Post Glacial Rebound as a secular trend, for the subareas of Central Europe only an annual periodicity appears. Results obtained using GRACE data show high correlation with the results calculated using GLDAS hydrological models.
Models of geoid height changes (parameters of trend and seasonal variations) were developed for the area of Europe and for 14 subareas. To verify those models values of geoid height changes calculated using GRACE data over the period July 2010–October 2010 were compared with the respective ones based on the models developed.