2018 | OriginalPaper | Buchkapitel
8. Analysis of Vibrational Mode in C
\(_{60}\)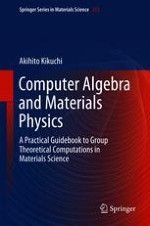 Erstes Kapitel lesen
Autor: Akihito Kikuchi
Abstract
In this chapter, the computation of the vibrational modes of the C
\(_{60}\)
by means of the computer algebra is demonstrated. The C
\(_{60}\)
molecule has the unique symmetry, comparable to one soccer-ball (see Fig.
7.​1
). The symmetry of the molecule is described by the icosahedral group, and this group is represented by the permutation of 60 vertexes or the group of rotation matrices operating on them. Owing to this high symmetry, the molecule shows peculiar electronic and dynamic properties, both of scientific and industrial interest, and the vibrational mode might be one of the principal phenomena in governing the quantum dynamics in it. As a tool of the computation, we utilize the software GAP, developed in the field of the pure mathematics (The Gap Group
2017
). This software can construct the symmetry group and compute the irreducible representations and other group-theoretical properties and enable us to put into practice the application in the material science, possibly in a modernized way. The computation presented hereafter will be useful to the working physicists and the students, who want to deepen the understanding of the group theory that are given in the textbooks (Dresselhaus et al.
2008
; Inui et al.
1990
; Burnside
1897
; Serre
1977
; Fulton and Harris
2004
).