2011 | OriginalPaper | Buchkapitel
4. Analytical Chemistry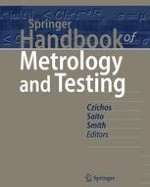 Erstes Kapitel lesen
Autoren: Dr. Willie E. May, Dr. Richard R. Cavanagh, Dr. Gregory C. Turk, Dr. Michael Winchester, Ph.D. John Travis, Melody V. Smith, Ph.D. Paul DeRose, Ph.D. Steven J. Choquette, Ph.D. Gary W. Kramer, Dr. John R. Sieber, Dr. Robert R. Greenberg, Richard Lindstrom, Dr. George Lamaze, Dr. Rolf Zeisler, Dr. Michele Schantz, Ph.D. Lane Sander, Ph.D. Karen W. Phinney, Dr. Michael Welch, Thomas Vetter, Dr. Kenneth W. Pratt, John H. J. Scott, John Small, B.S. Scott Wight, Ph.D. Stephan J. Stranick, Ralf Matschat, Peter Reich
Verlag: Springer Berlin Heidelberg
Abstract
Measurements of the chemical compositions of materials and the levels of certain substances in them are vital when assessing and improving public health, safety and the environment, are necessary to ensure trade equity, and are required when monitoring and improving industrial products and services. Chemical measurements play a crucial role in most areas of the economy, including healthcare, food and nutrition, agriculture, environmental technologies, chemicals and materials, instrumentation, electronics, forensics, energy, and transportation.
This chapter presents a broad overview of the analytical techniques that can be used to perform the
higher order chemical characterization of materials
. Techniques covered include mass spectrometry, molecular spectrometry, atomic spectrometry, nuclear analytical methods, chromatographic methods and classical chemical methods.
For each technique, information is provided on the principle(s) of operation, the scope of the technique, the nature of the sample that can be used, qualitative analysis, traceable quantitative analysis, and key references. Examples of representative data are provided for each technique, where possible.