01.08.2016 | Ausgabe 8/2016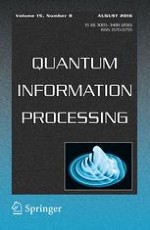 Analytical error analysis of Clifford gates by the fault-path tracer method
Zeitschrift:
Autoren:

Smitha Janardan, Yu Tomita, Mauricio Gutiérrez, Kenneth R. Brown
Wichtige Hinweise
This article is part of topical collection on Quantum Computer Science.
Abstract
We estimate the success probability of quantum protocols composed of Clifford operations in the presence of Pauli errors. Our method is derived from the fault-point formalism previously used to determine the success rate of low-distance error correction codes. Here we apply it to a wider range of quantum protocols and identify circuit structures that allow for efficient calculation of the exact success probability and even the final distribution of output states. As examples, we apply our method to the Bernstein–Vazirani algorithm and the Steane [[7,1,3]] quantum error correction code and compare the results to Monte Carlo simulations.