01.01.2015 | Ausgabe 1/2015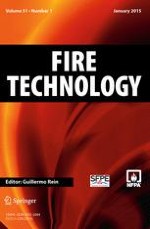 Analyzing Thermal Shrinkage of Fire-Protective Clothing Exposed to Flash Fire
Zeitschrift:
Autoren:

Xiaohui Li, Yehu Lu, Lina Zhai, Min Wang, Jun Li, Yunyi Wang
Abstract
The thermal shrinkage of a fire-protective garment has significant influence on its thermal performance. However, there is a lack of systematic investigation on garment shrinkage under exposure to flash fire. Based on a posture-adjustable flame manikin, a new approach to characterize the thermal. The shrinkage during flash-fire exposure is proposed, and several factors were investigated shrinkage was measured in different test conditions by calculating the deformation of markers on the garment. Results showed that the shrinkage was affected by the exposure conditions, fabric properties, garment size, and body posture. The shrinkage showed different results in the four directions and was unevenly distributed over the manikin. The distribution of garment shrinkage was analyzed and correlated with the heat flux and air gap. The most severe shrinkage location was the arms and legs. The shrinkage at the rear was larger than at the front. There was significant difference between the chest and other parts such as the back, arms, and legs (
P
< 0.01). There was also significant difference between the back and the arms as well as legs (
P
< 0.01). This indicates that the correlation with shrinkage was weak for the air gap size but moderate for the heat flux. Design of fire-protective clothing should take the thermal shrinkage property into consideration, and this study provides a technical basis to engineer high-performance protective clothing.