05.07.2019 | Chemical routes to materials | Ausgabe 19/2019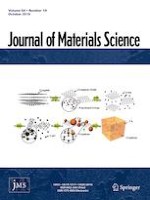 Anchoring Co3O4 on BiFeO3: achieving high photocatalytic reduction in Cr(VI) and low cobalt leaching
Zeitschrift:
Autoren:

Xuefeng Shi, Shanyu Quan, Linmei Yang, Cong Liu, Fanian Shi
Wichtige Hinweise
Publisher's Note
Springer Nature remains neutral with regard to jurisdictional claims in published maps and institutional affiliations.
Abstract
A novel Co
3
O
4
–BiFeO
3
nanocomposite was successfully prepared via a facile hydrothermal method followed by an impregnation process and well characterized with XRD, TEM, FTIR, XPS, UV–Vis DRS and PL spectrum. XPS and TEM analyses reveal that Co
3
O
4
nanoparticles were successfully anchored on the BiFeO
3
. The photocatalytic activities of prepared photocatalysts were evaluated by removal of Cr(VI) under visible light (300 W Xe lamp irradiation). The results indicate that the 0.8% CO
3
O
4
–BiFeO
3
(Co0.8Bi) sample calcined at 500 °C for 4 h showed the best performance, and the rate constant
k
of Cr(VI) reduction over Co0.8Bi is about 13.7- and 23.3-fold compared with pure BiFeO
3
and Co
3
O
4
, respectively. More importantly, the CO
3
O
4
-BiFeO
3
catalyst exhibited highly chemical stability with Co leaching of lower than 34.5 μgL
−1
, which is attributed to a strong interaction between Bi and Co components in Co
3
O
4
–BiFeO
3
. The effects of Co
3
O
4
loading, calcination temperature and initial pH on catalytic activity and cobalt leaching were optimized.