01.04.2013 | Ausgabe 1/2013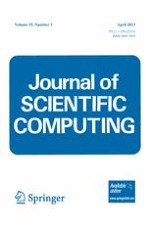 Anelastic Stokes Eigenmodes in Infinite Channel
Zeitschrift:
Autoren:

Zohra Hammouch, Gérard Labrosse, Serge Gauthier
Abstract
The anelastic Stokes eigenmodes are computed for a fluid confined, in presence of gravity, between two horizontally infinite plates. These eigenmodes are described by one horizontal wave number
k
. The eigenvalues
λ
(
k
2
) are proved to be all negative. They depend monotonically upon
k
, behaving like
k
2
for very large
k
.
Two particular values of
k
are considered, i.e.,
k
=2 
π
and
k
=0, and the stratification parameter of the equilibrium state is taken between 0 (incompressible approximation) and 10 (upper limit of the anelastic configuration). The
k
=2 
π
eigenvalue problem is solved numerically while the
k
=0 is solved both numerically and analytically. Two physical configurations are analyzed, one with no-slip boundary conditions imposed on both horizontal walls, and one with no-stress, while imposing no flow through these boundaries in both cases. The main results are: (i) the smaller the stratification, the larger the decay rate, (ii) the eigenmodes are localized in the lower part of the channel, their vertical extension increasing with the eigenmode spatial frequency, (iii) the Neumann eigenmode decay rates are smaller than their Dirichlet counterparts, except for
k
=0, where it is just the reverse, (iv) a general trend seems to emerge from the present study, regarding the way the numerical eigenvalues of an elliptic operator compare with the analytical ones, viz., the numerical spectrum overestimates (in absolute value) the analytical spectrum, slightly in the low frequency part of the spectrum and more and more strongly in the upper part.