01.12.2013 | Ausgabe 23/2013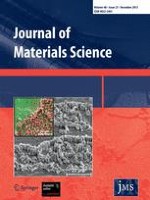 Anti-microbial and anti-corrosive poly (ester amide urethane) siloxane modified ZnO hybrid coatings from
Thevetia peruviana

seed oil
Zeitschrift:
Autoren:

T. O. Siyanbola, K. Sasidhar, B. Anjaneyulu, K. P. Kumar, B. V. S. K. Rao, Ramanuj Narayan, O. Olaofe, E. T. Akintayo, K. V. S. N. Raju
Abstract
The utilization of renewable resources for the development of organic coatings is a viable means of creating alternatives to petroleum-based chemicals which are not eco-friendly. This paper reports the synthesis of polyesteramide–urethane–silica–zinc oxide hybrid coatings from
Thevetia peruviana
seed oil (TPSO). The periphery of ZnO nano-particles is modified with 3-aminopropyltrimethoxysilane to prepare silica grafted ZnO composite particles. The TPSO based polyesteramide was reacted with 4,4′-diisocyanatodicyclohexylmethane in presence of siloxane modified ZnO to obtain –NCO terminated polyesteramide–urethane–silica ZnO prepolymer. These hybrid pre-polymers were casted on tin foil and cured under atmospheric moisture to obtain eco-friendly, moisture cured polyesteramide–urethanes–silica–zinc oxide hybrid coating films. The synthesized polyester and polyurethane formation was confirmed by using FT-IR and NMR spectroscopic techniques. The resultant hybrid coating films were characterized by using FT-IR, TGA, DSC, SEM, corrosion resistance and microbial resistance. Results confirm that with increase of siloxane modified ZnO content in the polyurethane matrix thermal stability, glass transition temperature and corrosion resistance improved. The antibacterial activity shows that the hybrid films exhibit excellent resistance towards
Escherichia coli
and
Staphylococcus aureus
. The salt spray test on coated panel samples show good corrosion resistance properties.