30.03.2020 | Research Article-Biological Sciences | Ausgabe 6/2020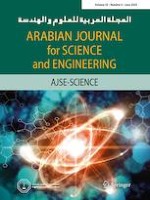 Antibacterial, Antifungal and Mosquitocidal Efficacy of Copper Nanoparticles Synthesized from Entomopathogenic Nematode: Insect–Host Relationship of Bacteria in Secondary Metabolites of
Morganella morganii

sp. (PMA1)
Zeitschrift:
Autoren:

Kandhasamy Lalitha, Dharman Kalaimurgan, Kannan Nithya, Srinivasan Venkatesan, Muthugounder Subramanian Shivakumar
Abstract
The present study deals with the use of cell-free supernatant of bacteria
Morganella morganii
for synthesizing copper nanoparticles and analysing its larvicidal activity on mosquito larvae. A colour change from blue to pickle green specifies the synthesis production of CuNPs. The nanoparticles were characterized using ultraviolet–visible spectrophotometry, scanning electron microscopy (SEM), X-ray diffraction (XRD) and Fourier transform infrared spectroscopy (FTIR). XRD pattern shows the major peaks, viz. (111), (200) and (220). SEM analysis shows that nanoparticles are in a spherical shape with a small percentage of elongated particles and size of about 13.5 ± 0.6 nm. A UV–Vis absorption peak was observed at 540 nm. FTIR analysis of nanoparticles exhibits functional groups such as aromatics, alkanes, ethers and alkyl halides. In EDaX (energy-dispersive X-ray) analysis, the peak signal confirms the presence of copper atoms that bound to the synthesized nanoparticles. The synthesized copper nanoparticles were tested for larvicidal efficacy at different time intervals. The above result shows that the copper nanoparticles produce increased toxicity in a time- and dose-dependent manner. An antibacterial and antifungal activity was tested against clinical pathogens, and the highest zone of inhibition was found to be in
E
.
coli
,
B
.
subtilis
,
A
.
niger
,
M
.
anisopliae
and
Verticillium sp
. This study shows that CuNPs possess a good antimicrobial and insecticidal activity which can be explored for commercial purpose.