28.01.2019 | Original Article | Ausgabe 1/2019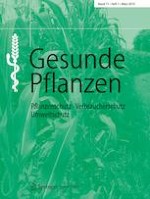 Antifungal Effect of Boron Compounds Against Three
Rhizoctonia solani

AG-4 Subgroups Causing Root and Crown Rot
Zeitschrift:
Autoren:

I. Erper, E. Yıldırım, M. Türkkan
Abstract
Rhizoctonia
root and crown rot, caused by three subgroups of
Rhizoctonia solani
anastomosis group (AG)-4 (AG-4 HG-I, -II, and -III), is one of the most important diseases of winter squash (
Cucurbita maxima
) in the Black Sea region of Turkey. In this study, we evaluated the inhibitory effect of boric acid (H
3
BO
3
), three borates (disodium octaborate tetrahydrate, disodium tetraborate decahydrate, and disodium tetraborate), and tolclophos methyl on the mycelial growth of isolates from the three
R. solani
AG-4 subgroups. In vitro test results showed that the inhibitory effects of boric acid and the borates against
Rhizoctonia
isolates differed. However, they completely inhibited mycelial growth of all three subgroups at concentrations of 1%. With the exception of AG-4 HG-I, 0.03125% tolclophos methyl reduced mycelial growth by 95.07–97.61%. However, there was no significant difference between 0.03125% tolclophos methyl and its higher concentrations (
p
 < 0.05). The values of concentration that caused 50% reduction (ED
50
), minimum inhibition concentration (MIC), and minimum fungicidal concentration of the compounds varied depending on the
R. solani
subgroup. Disodium tetraborate was the most toxic boron compound. The MIC value of the four boron compounds also varied between 0.25 and 0.5%. Soil bioassays showed that the four boron compounds and tolclophos methyl completely inhibited mycelial growth of AG-4 HG-II and -III isolates at 1% or at lower concentrations. At concentrations of 0.125–0.25% the boron compounds were found to be phytotoxic to winter squash seeds in terms of root elongation, whereas no phytotoxicity in terms of seed germination was seen for any concentration of the tested compounds. The results suggest the boron compounds may serve as an alternative to synthetic fungicides against
Rhizoctonia
root and crown rot of winter squash.