24.08.2018 | Original Paper | Ausgabe 1/2020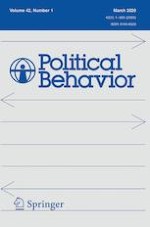 Anxious Voters in the 2016 U.S. Election: An Analysis of How They Decided from the ERPC2016
Zeitschrift:
Autor:

James E. Monogan III
Wichtige Hinweise
Electronic supplementary material
For helpful research assistance, I thank Ryan Bakker, Arthur Lupia, Brendan Nyhan, Andreas Murr, Ken Benoit, Michael Breen, Donnacha Ó Beacháin, Bill Jacoby, Dave Peterson, and Keith T. Poole. The preregistered research design is available at
http://​www.​osf.​io/​34cfg/​register/​57ace80a594d9000​015403c6
. Complete replication information is available at
https://​doi.​org/​10.​7910/​DVN/​S2VGJ1
. Previous versions of this project were presented at the Political Studies Association's 2017 Political Methodology Group Conference in Oxford, England, the Department of Methodology at the London School of Economics and Political Science, the School of Law and Government at Dublin City University, and the 2017 St. Louis Area Methods Meeting in Columbia, MO.
Abstract
How did anxiety influence vote choice in the 2016 U.S. presidential election, when both major candidates faced substantial voter disapproval? Drawing from the model of affective intelligence (Marcus et al.
2000
), I argue that anxious voters will base their vote choice more strongly on issues and candidate qualities and less on partisanship relative to non-anxious voters. This study uses a registered report as part of the 2016 Election Research Preacceptance Competition, wherein a complete analysis plan was submitted for review prior to the 2016 American National Election Study's release. In so doing, it serves as a model for other preregistered and potentially preaccepted research. Consistent with past findings, this study shows that anxious voters in 2016 were less likely to rely on past partisanship and more likely to base decisions on personal qualities. However, anxiety did not condition the effect of issues in the election. Further, Donald Trump faced no more anxiety among Republican voters than Mitt Romney did in 2012 due to a rise of in-party enthusiasm. The non-conditional effect of issues and a relatively narrow gap in partisan anxiety served as unique features of the 2016 election.